Lapay (jaggery Rice)
Lapay is a kutchi cuisine which is prepared with sweet jaggery and rice . Lapay can be served with Triveti Dal.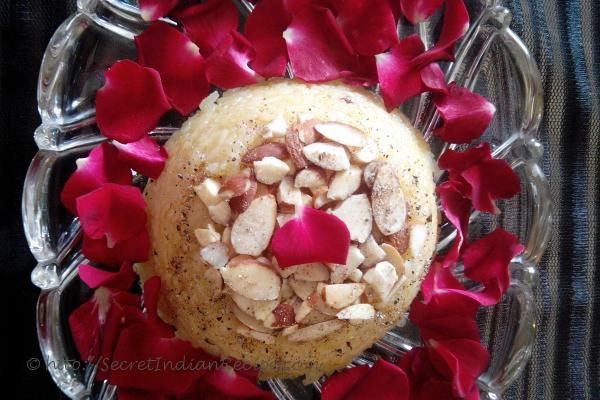 Ingredients:
1 cup par boiled Rice
1and 1/4 cup Jaggery
4 tbsp Ghee
1 Cinnamon stick
2-3 Cloves
2 Bay leaves
2 pinches of Saffron strands dissolved in 2 tbsp warm Milk
2 tbsp Almond slices
2 tbsp chopped Cashew nuts
1 tbsp Cardamom powder
Directions:
First take the jaggery and soak it in water and allow it to boil till it dissolves completely .Pick, clean and wash the rice. Soak the rice for 15-20 minutes.
In a pan add the rice and 2 cup of water and allow it to cook till the rice is partially cooked.
Mix dissolved jaggery with partially cooked rice. Add ghee and Stir it gently
Now add cloves, bay leaves, raisins and saffron soaked in milk. Stir this very gently with the rice mixture. Now close the lid and allow it to cook. Stir in between. Cook till all the water burns out and rice gets completely cooked. If required you can add water to the rice for cooking.
When the rice is completely cooked transfer it in to a serving dish. Garnish the cooked Jaggery Rice with roasted almonds slices, chopped cashew nuts and cardamom powder . Add 1 tbsp ghee on it and serve hot.
Footnotes:
Lapay can be prepared with sugar also .