Lau Aar Aloo Malai Curry (bottle Gourd And Potato In Creamy Coconut Gravy)
'Malai Curry' is a Bengali gravy method with a thick coconut milk base. The gravy is mildly sweet. The most common is the ' Bengali Chingri (Prawn) Malai Curry'. I had the opportunity to have 'Egg and Vegetable Malai curry' during one of my visits in Cooch Bihar in North East and from there the idea of including different vegetables came in my mind. The secret of a good ' Malai Curry' is the use of fresh coconut milk and a combination of spices. Though the curry is mildly sweet due to coconut, I recommend to use a pinch of sugar to get the real taste. Use as much as green chilies to adjust your spice level.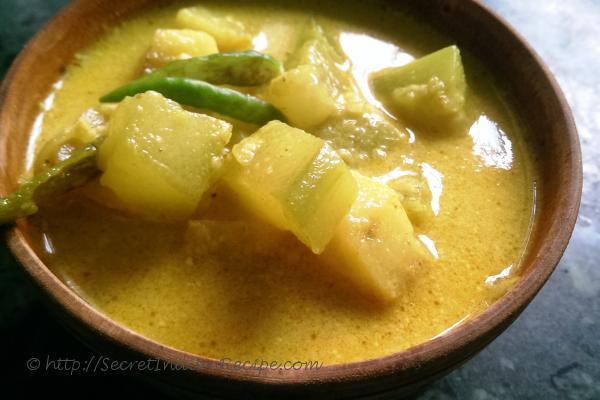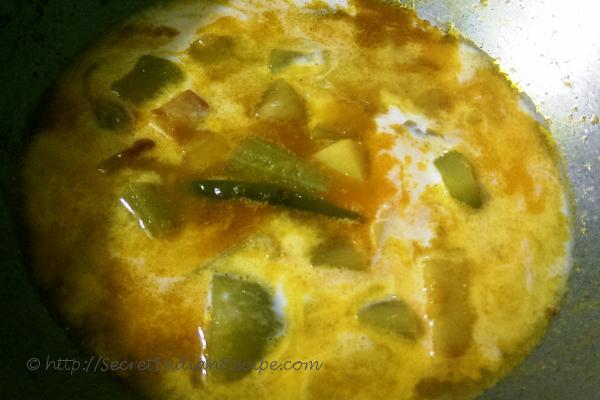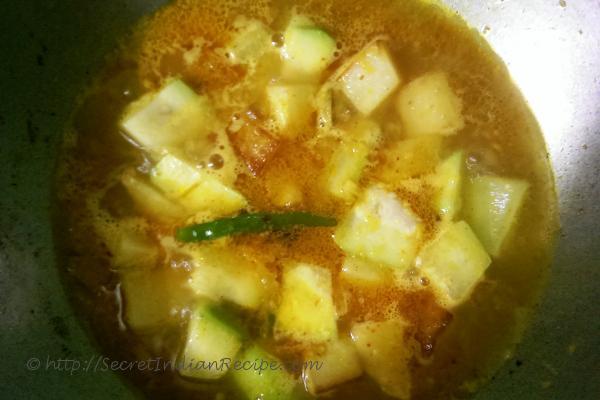 Ingredients:
Lau (Bottle Gourd) – cut in cubes 1 cup
Aloo ( Potato) – 1 medium sized cubed
Grated coconut – ½ cup
Onion paste – 1 small onion
Ginger paste – ½ inch
Green chilies – 2 split
Turmeric Powder – ½ teaspoon
Red Chilli powder – ½ teaspoon
Salt – to taste
Refined oil – 4 tablespoons
Sugar to taste.
Directions:
Add ½ cup of water in the grated coconut and grind into a smooth paste. Sieve it through a muslin cloth or strainer to get fresh coconut milk. Keep aside.
Heat oil in a pan and sauté potatoes over a medium flame. As they start browning from the sides add bottle gourd and continue to sauté for 2 more mintues.
Take out the potatoes and bottle gourd on a plate. In the remaining oil add onion paste, ginger paste, split green chilies, turmeric powder and red chili powder. Cook over low flame till the oil separates and the masala is cooked properly.
Add the sautéed potatoes, bottle gourd, salt, sugar and 1 and ½ cup of water. Increase the flame and bring the curry to a boil. Put a lid and cook the curry till the veggies are cooked well. This will take 10-12 mintues.
Check the seasoning and the consistency of the curry. Finally add the coconut milk and mix. Switch off the curry as soon as you add the coconut milk. Give a final stir and keep the curry covered for about 10 mintues.
Garnish with some split chilies and serve hot with steamed rice or chappati.