Lau Diye Moonger Dal Recipe(roasted Moong Dal With Bottlegourd)
Lau means bottlegourd in bengali. The fresh, soft and tender bottle gourd is the favorite vegetable in Bengali households during summer. In this dish, the skinless and split yellow lentil is the main ingredient and the chopped bottle gourd is the add on. This recipe can be said to more or less like a lentil soup, tempered with panch phoron in mustard oil.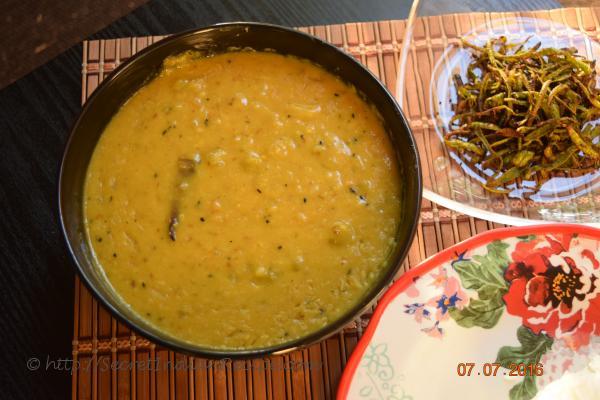 Ingredients:
3/4 cup Moong dal (split yellow lentil)
1 and 1/4 cup washed, peeled and chopped Bottlegourd
1 tbsp Ghee or oil
1.5 tsp Coriander seeds ( or 1 tsp Coriander powder)
2.5 tsp Cumin seeds ( or 2 tsp ground roasted Cumin powder)
2 dry Red chillies
1 Green chilli slit vertically
Salt as per taste
1/2 tsp Turmeric powder
Panch phoron :
1/4 tsp Cumin seeds
1/4 tsp Nigella seeds(kalonji)
1/4 tsp Fennel seeds
1/4 tsp Mustard seeds
2-3 Fenugreek seeds
Directions:
Dry roast the moong dal till it turns golden brown and you feel the aroma of the roasted dal. Turn off the gas and let the lentil cool for 3-4 minutes. Wash well with water. Drain off the excess water and keep it dry.
Dry roast the coriander seeds and cumin seeds. Ground it coarsely in mortar and pestle by hand or grind it in a mixer. Skip this step if using coriander powder and roasted cumin powder.
Heat the mustard oil in a pressure cooker. Add the panch phoron as listed in the ingredients. When the seeds stop to crackle, add dry red chilli, ginger and green chilly. Saute for 2 minutes till the raw smell of the ginger goes away.
Add the chopped lau or bottlegourd. Add the coriander and cumin powder. Add the moong dal. Add turmeric and salt as per taste. Stir and mix. Add around 4 cups of water. Cover the lid of the pressure cooker and give it 2-3 whistles. Turn off the heat.
Allow the cooker to cool. Open the lid and transfer the lentil curry in a bowl. Serve lau diye moong er dal hot with rice or poori.