Lau Er Khosha Bhaja (bottle Gourd Peels Stir Fry)
The bottle gourd is known as Lau in Bengali. The bottle gourd is the favorite summer vegetable in Bengali household. Everytime my mom used to prepare the bottle gourd, she used to save the peels and prepare a quick stir fry. Today I am going to share this heirloom recipe from West Bengal.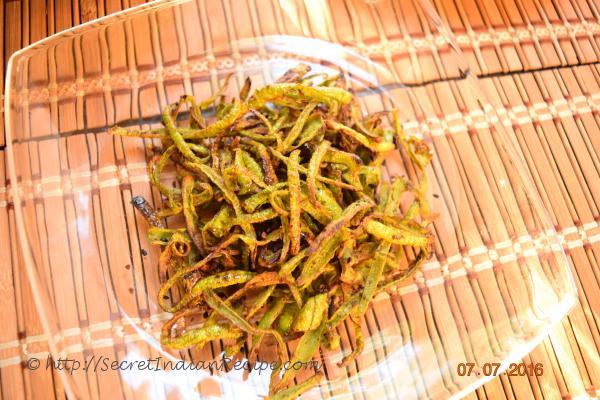 Ingredients:
1 Bottle Gourd
2 tsp Mustard Oil
1/2 tsp Turmeric powder
1/4 tsp Nigella seeds (kalonji)
1/2 tsp finely chopped Ginger
1 Green Chilli finely chopped
Salt as per taste
1/2 tsp Sugar
Directions:
Wash and clean the bottle gourd. Pat it dry with a kitchen paper towel. Peel the bottleguard in 1/4 inch in width .Stack them together and then cut them lengthwise into julienne strips about 1/8 to 1/4 inch thick and about 2 inches long. Add 1/2 tsp turmeric powder and pinch of salt. Mix well and leave it for 10 minutes.
Heat a pan and add mustard oil. When the oil is hot, add the nigella seeds. When the seed stop to crackle, add chopped ginger, sugar, salt as required and chillies. Saute on low heat for 2 minutes till the raw smell of the ginger goes away.
Squeeze out any water if remaining in the peels. Add the peels into the pan and stir fry on medium high heat till the peels turn crispy and cooked.
Serve it hot as a side dish with rice.