Lauki Burfi ( Bottle Gourd Desserts)
#IndianDietRecipe New Look to less appreciated vegetable. Easy, light and simple to make with three basic ingredients - Gaurd/lauki, clarified butter/ ghee and condense milk. Cardamom powder, almonds and silver leaf( optional) for garnishing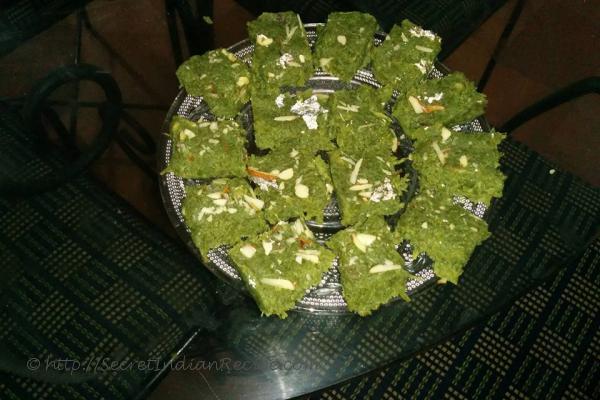 Ingredients:
lauki ( Bottle gourd) 1 kg
Ghee 2-3tbs
Condense milk 300/ 400gms ( 1 tin)
Cardamom powder. 1/2 tsp
Almonds. 8--10.
Silver leaf 1 PC
Green color 4 drops optional
Directions:
1 Wash, peel and grate Loki. Use the thinner side.
Heat ghee and put Lauki. Cook till all the water has evaporated and the ghee gives a nice shine to the Lauki.
Pour condense milk. Adjust sweetness to taste. I used around 300 gms of sugar as I do not like it too sweet.
Keep stirring and let it form into a ball.
Sprinkle cardamom powder and mix well.
Grease a tray/ thali or a square plastic box to set the burfi.
Empty the contents in the tray and spread it evenly with the help of a spatula.
Cut almond slivers and sprinkle on the top.
Put silver leaf. Leave to set.
Once set cut into squares and serve.
Footnotes:
NOTE--- I used Amul 's Mithai Mate