Lauki Chana Dal (bottle Gourd & Split Bengal Gram Curry)
Generally, at my home, we are habitual of eating a dal preparation once every day. So every day it needs to be different not only in terms of dal type but also in taste. The lentils are highly nutritious and being vegetarians, the only source of high protein we find in, is dal. My family does not actually, have a liking for bottle gourd but since it is good for health, the best way I found to include this vegetable in their diet, is in the form of Lauki Chana Dal. I have done numerous experiments by changing many ingredients to make this dal and I finally concluded that Lauki Chana is best prepared without onion and garlic. So I expect that even satvik diet followers will also like this spicy dal.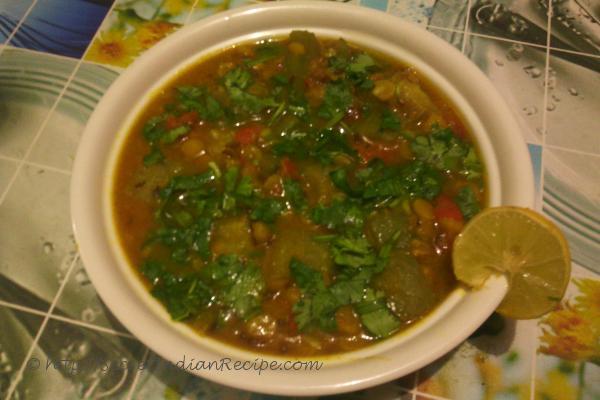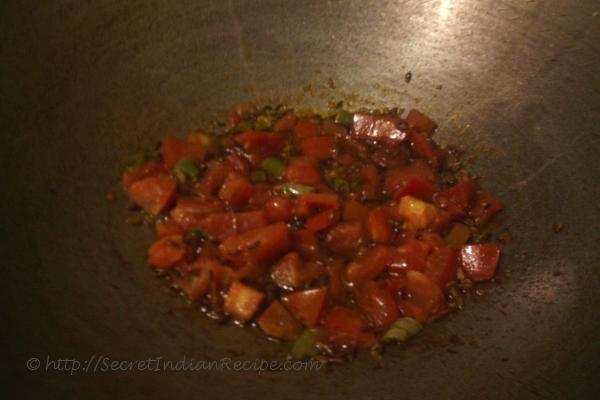 Ingredients:
Bottle Gourd (Lauki) - 100 gms (thickly diced)
Split Bengal Gram (Chana Dal) - 1 cup
Tomato - 1 medium sized
Green Chili - 1 (finely chopped)
Cumin Seeds - 1 tsp
Asafoetida (Hing) - 1 pinch
Turmeric Powder - 1/2 tsp
Red Chili Powder - 3/4 tsp
Coriander Powder - 1 tsp
Garam Masala - 1/2 tsp
Oil - 1 tbsp
Water - 1 & 1/2 cup
Salt to taste
Directions:
Soak chana dal for an hour in lukewarm water.
In a pressure cooker, boil the soaked chana dal for upto 5 whistles.
After 5 whistles, add the diced bottle gourd in the cooker and pressure cook till 3 whistles.
Heat oil in a pan and add cumin seeds to it.
As it splutters, add a pinch of asafoetida and green chilies.
Immediately add finely chopped tomatoes and let it cook till it becomes soft.
As the oil separates from the mixture, add turmeric powder, red chili powder and coriander powder.
Now add the boiled chana dal and bottle gourd and mix well.
Add enough water and allow it to boil for 2 to 3 minutes.
Sprinkle garam masala and salt in the dal and boil for 5 minutes.
Remove from flame. Garnish with fresh coriander leaves and serve hot.