Lauki Chane Ki Dal(bottle Gourd With Skinned And Split Gram)
A light and healthy dish.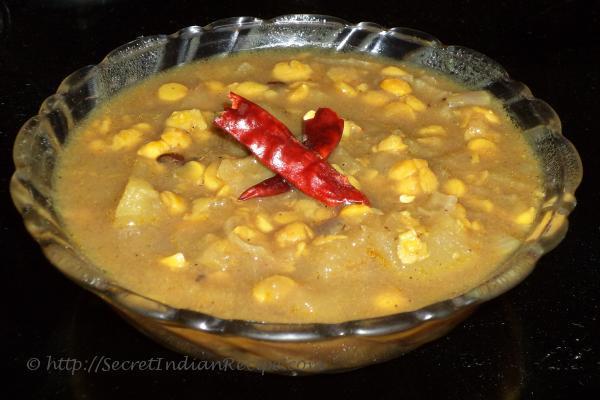 Ingredients:
Bottle gourd - 250 gm
Blackgram lentil - 150 gm
Salt to taste.
Turmeric- 1/2 tablespoon
Tomato puree - 2 table spoon
Chopped onion - 1 tablespoon
Coriander powder - 1/2 tablespoon
Red Chilli Powder- 1/2 tablespoon
Cumin seeds -1/2 tablespoon
Asafoetida/hing - a pinch
Oil - 4 table spoon
Water - 500ml
Directions:
wash the gram nicely and soak it in the water for 1 hr.
Peel off the bottle gourd and cut it into small pieces .
take a pressure cooker pour 500 ml water to it ,now add the gram and bottle gourd to it . put salt, turmeric and asafoetida/hing and cover it with lid . Put it on the flame and wait for it to blow 2 whistles.
Simultaneously , take a pan add some oil to it ,as the oil become hot add cumin seeds and onion let it be golden brown. Now add tomato puree , red chili powder , coriander powder and mix them nicely.close the flame as the mixture start releasing oil.
open the lid of the cooker and stir it, now add the mixture made in pan to the cooker and mix it nicely to it. your dish is ready to be served.