Lauki Ke Kofte (bottle Gourd Dumplings In Spicy Onion And Tomato Based Gravy)
Hmmmm, Good. What is this? Potatoes? This was my Mother in laws response after the first bite of the lauki kofte. Actually it is very difficult to make out if you are not told that it is lauki ke kofte. This secret Recipe is for all men and kids, who do not like to eat Lauki (Bottle gourd). My Mother always tells that it is the way of cooking, which makes the food good or bad. Even a Paneer or a chicken recipe can taste aweful if it is not cooked properly. I personally like vegetarian food and I believe that Vegetarian food, if cooked well can be more tasty than non – vegetarian food. Here I am sharing my all time favourite recipe of Lauki Ke kofte. When I cooked it and offered it to my neighbours, they came running the next morning to me for the recipe. Then I thought of uploading it on the site for everyone to try it. So, here goes the recipe.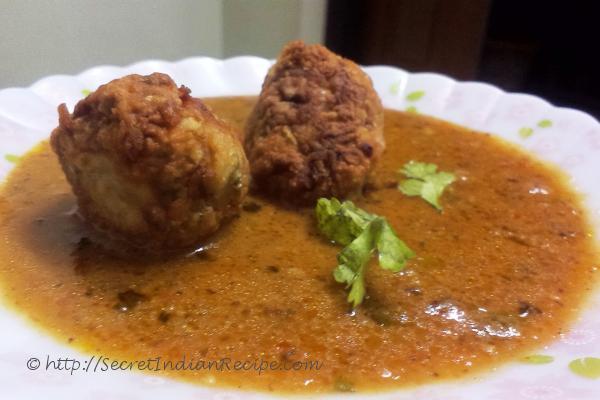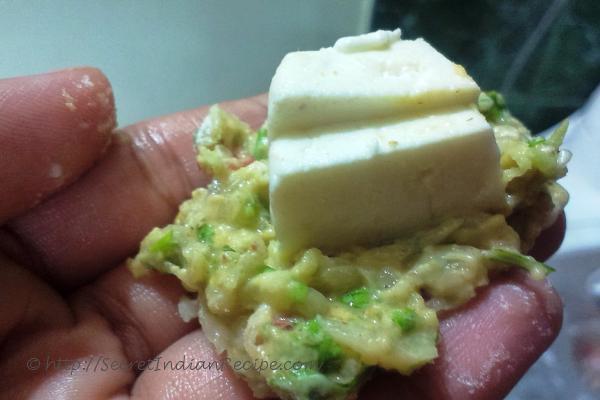 Ingredients:
Lauki (Bottlegourd) – 1 cup grated
Besan (Gram Flour) – ¼ cup
Ginger – crushed 1 inch piece
Green chilies – 1-2 chopped
Roasted Cumin powder – ½ tablespoon
Garam masala powder – ¼ tablespoon
Coriander Leaves – Chopped 1/4 cup
Salt – to taste
Maida (Refined flour) -3-4 tablespoon
Paneer – 50 grams(cut into cubes)
(For Gravy)
Onion – 2 Medium sized
Tomato – 1 medium sized
Coriander seeds – 2 tablespoon
Cumin seeds – 1 tablespoon
Black Pepper – 4-5
Whole red Chili – 1-2
Ginger and garlic paste – 1 and ½ tablespoon
Garam Masala powder – ¼ tablespoon
Kasuri Meethi (Fenugreek leaves) – few
Cashew paste – 1 tablespoon
Coriander leaves – Chopped 3-4 tablespoon
Oil – 5-6 tablespoon
Salt – to taste
Sugar – to taste
Directions:
To make koftas, first squeeze the grated lauki to drain the excess water. Excess water in lauki can make binding difficult.
Now add besan, ginger, green chilies, cumin powder, garam masala, salt and chopped coriander with grated lauki and mix. Make small balls out of this mixture. Now take each ball carefully and place one small cube of Paneer in the middle and then again roll the mixture into a ball. Gently roll over this ball on the maida to prevent breakage. Follow the procedure till you get all your lauki ke kofte.
For the gravy, first slightly roast coriander seeds, cumin, black peper and red chili over low flame for 1-2 mintues. As you get the aroma, switch off the gas and put them into a grinder. Grind them to powder. Keep aside.
Grind onion and tomatoes together and keep aside.
Heat oil in a pan and first fry all the kofte till golden brown in color.
Then take them out and keep aside. In the remaining oil, add onion and tomato paste and fry for about 2 mintues . Add ginger and garlic paste and the roasted masala powder and cook till the masala leaves oil from sides. Add cashew paste, kasuri meethi and salt and fry for another 1 mintue.
Finally add 1 and ½ cup of water and let the curry boil. As it boils, put the flame low and let it simmer for 1 mintue. Add the kofte and chopped coriander leaves and cook further for about ½ minute.
Switch off the gas and serve it hot with Chappati.