Laukiwali Dal (yellow Lentil Cooked With Bottleguard)
Laukiwali dal is a vegetarian side dish recipe. Lauki has a cooling effect on body specially in summer.You can have lauki juice, lauki sabzior lauki raita to keep your body cool in summer. Here is an additional way to eat lauki in your daily meal.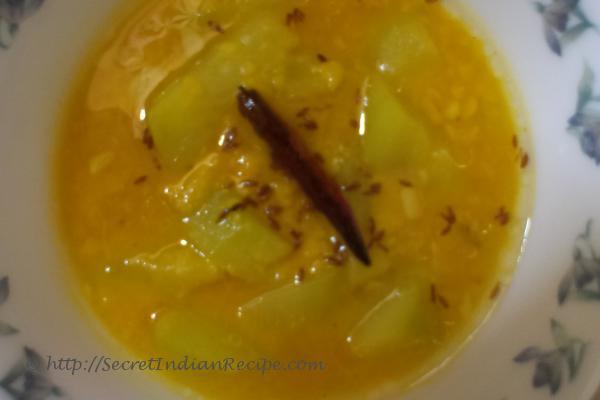 Ingredients:
Rahar dal -1 cup
Lauki (bottle guard) – 200 grams
Turmeric powder – ½ tablespoon
Mustard oil – ½ tablespoon
Salt – 1 tablespoon
Zeera (cumin powder) – ½ tablespoon
Ghee – 1 tablespoon
Red chilli – 1 piece
Directions:
Cut the lauki in 1 inch pieces and keep aside.Wash the rahar dal and keep it aside.
In a pressure cooker add the rahar dal, turmeric powder, salt , mustard oil and water and cook upto two whistles. Remove the lid of the pressure cooker and add the lauki. Again cook for two more whistles or more until the lauki turns tender.
In a small pan heat ghee and add cumin seeds. Let it crackle and then add the chillli. Tamper the lauki wali dal and serve hot with rice.