Lavang Lata ( Stuffed Fritters Dipped In Sugar Syrup)
Lavang Lata is a traditional Oriya sweet treat loved by everyone. It is traditionally stuffed with Lavang (clove) flavoured Khoya but in this version of the recipe, the sweet pockets are also stuffed with dry fruits. One can tweak the stuffing in many ways to suit their taste buds. This is a family favorite after-meal sweet that children enjoy a lot!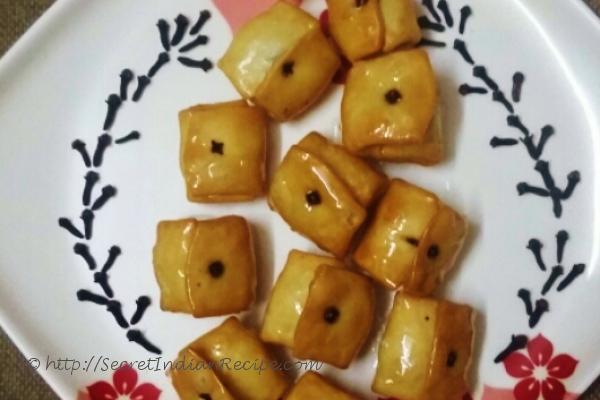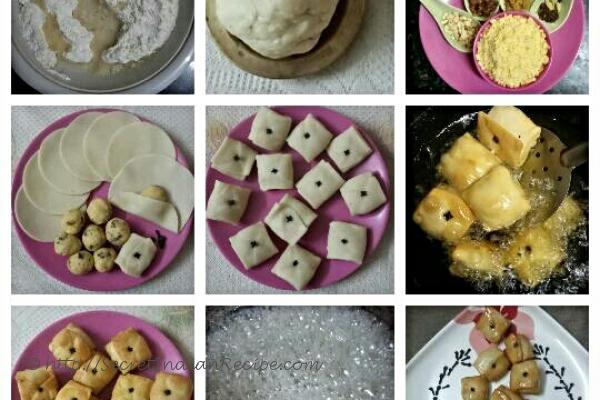 Ingredients:
Flour- 2 cups
Ghee- 2 table spoons
Salt to taste
Khoya- 1 cup
Sugar- 1 cup (for syrup)
Sugar- 1 tablespoon (for filling)
Green Cardamom - 1 teaspoon
Fig/Anjir- 1 tablespoon (chopped)
Fried Cashew/Kaju- 1 tablespoon (chopped)
Raisin/Kishmish- 1 tablespoon (chopped)
Cloves- 12-15 (whole, for sealing the pockets)
Clove Powder- 1 teaspoon
Oil (for deep frying)
Water- 1/2 cup (for syrup)
Directions:
Put flour, salt, and ghee into a bowl and rub them together until a crumble is formed. Add water to form a dough for the pastry.
Let the dough rest for around 20 minutes.
While the dough is resting, start working on the filling.
Add Khoya, Kaju, Kishmish, Anjir/Fig, Cardamom and clove powder along with sugar in a bowl to create the filling
Make small dumplings/laddoos of filling.
Roll the pastry dough to a half a centimeter thickness and cut it into circles. Like puris.
Place a small dollop of filling on each puri and fold like an envolope. Use water to help the pastry stick.
Seal the stuffed pastry with a clove. Punch a clove on the top fold of the pastry to hold the stuffing together inside the pastry.
Heat oil in a deep frying pan. Fry the pastry pockets on low heat once the oil is heated. Fry till golden brown.
While the sweet delights cool, make the sugar syrup by bringing some water up to a simmer and adding the sugar.
After the syrup reaches a stringy consistency, dip the 'Lavang Latas' into it, one by one carefully.
Enjoy these sweets after they cool down.
Footnotes:
These snacks can be stored for fifteen to twenty days without a fridge.
Add this delicacy to your festive menus and introduce your family and friend with something different!