Left Over Khichdi Kebab
I love this recipe as my food is not wasted. this is to take out the best from the waste.. something creative. And I got this recipe from my mom with a modern look.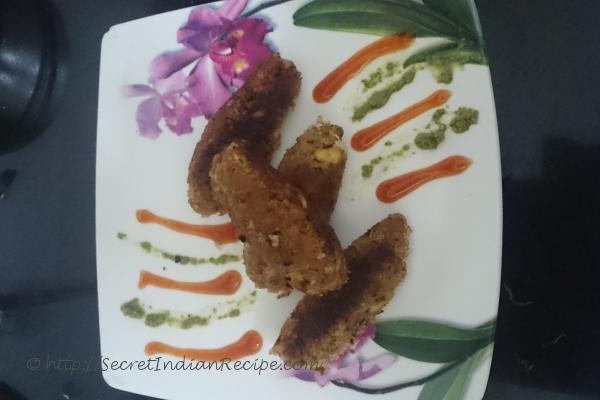 Ingredients:
1 Onions - Chopped finely
1 Tomatoes chopped finely
Garlic 4-5 pods
Red chilli powder - 1/2 teaspoons
Garam masala powder - 1/2 teaspoons
Chaat Masala - 1/2 teaspoons
Boiled Corn 1/4 cup
Coriander leaves - 2 tablespoons
Salt to taste
Khichdi, - 1 bowl
Gram flour - 5 tablespoons
Oil - 2 Tbsp + to fry
Directions:
In a pan heat oil then add grated onions and garlic paste and let it be golden brown. Add grated tomatoes, chili powder, chaat Masala, garam masala and boiled corns.
Mix it well and add left over khichdi.
For binding add little gram flour and mix it well. It should be dry.
In a bowl take 4 tablespoon maida and add 2 tablespoon water.
Apply little oil on hands then make a roll of the khichdi mixture. Dip in to the maida solution and roll it over bread crumbs.
Take a pan and shallow fry it. Once it turns golden brown, take out and serve hot.