Lemon Rice
This is very quick way of preparing lemon rice, tasty and healthy!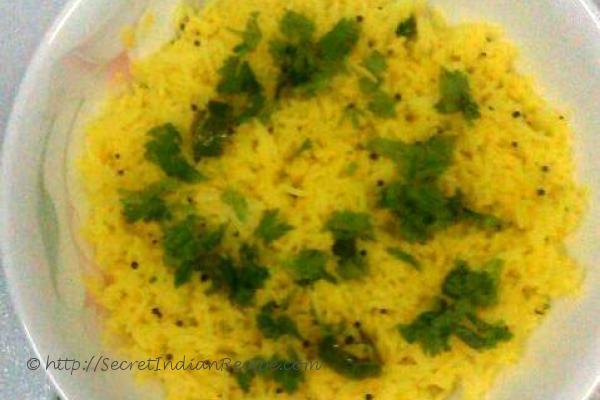 Ingredients:
2 cups of cooked rice
juice of one fresh lemon
1 teaspoon salt
1/2 teaspoon turmeric powder
1/2 teaspoon mustard seeds
2 chopped green chillies
1 tablespoon extra virgin olive oil
A pinch of asoefodita(hing)
Directions:
Take two cups of freshly boiled rice or you can use even leftover rice for this. Just warm them up.
In a heated frying pan or wok, put the olive oil and mustard seeds till these splutter. Then add asoefodita, chopped green chillies and turmeric powder. Fry these for a minute, then add the cooked rice and salt, and mix well.
Squeeze the juice of one fresh lemon and mix properly.
Transfer the prepared rice in the serving dish and garnish with chopped coriander leaves. Lemon rice is ready.
Footnotes:
Lemon rice is quick to make and easy to pack for lunch boxes. Lemon rice can be made in gingelly/sesame seed oil also, but I use olive oil for lighter/healthier version. This is also a good way to use the leftover rice.