Lentils And Palak Dosa With Ridge Gourd Chutney
This recipe is favorite , it is a different form dosa which is rich in proteins and iron. the ridge gourd chutney adds on to the taste. Children usually don't prefer to eat veggies especially a fibre rich veggy like Turai, But this chutney is truly very tangy and tasty that even kids love it. Different dals are used to prepare this dosa and to add on I have added spinach to it. I learnt this recipe from my mother-in-law , but I have made it a bit innovative.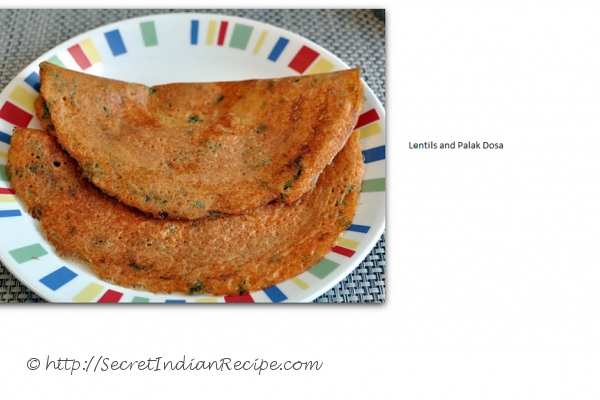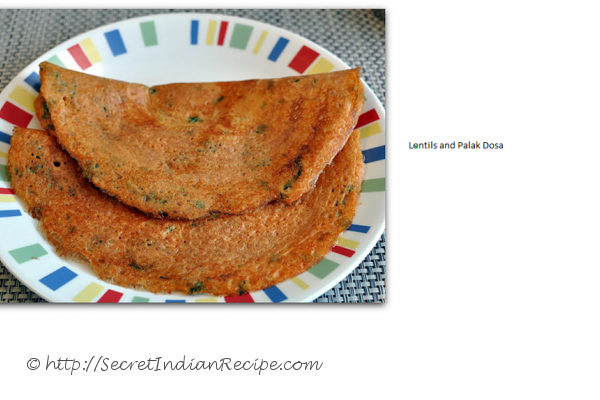 Ingredients:
Toor dal-50 gms
Moong dal-50 gms
Urad dal-50 gms
Bengal gram dal-50gms
Rice-250 gms
Beaten Rice- a handful
Hing- 2 pinches
Tomato -2-3
Red chilli powder- 2 teaspoon
Palak- 2 bunches
Onion- 2-3
Oil- for making dosas
Salt - to taste
Ridge gourd- 2-3
Mustard seeds- 1/2 teaspoon
Methi seeds -1/4 teaspoon
Tamarind paste- 1 teaspoon
Green chillies - 2-3
Dry Red chillies- 4-5
Grated Coconut- 2-3 table spoons
Urad dal- 2 teapoons
Curry leaves - a few
Hing- a pinch
Oil- 2 table spoons
Salt -to taste
Directions:
For the dosa Soak the lentils along with the rice and beaten rice overnight.
Grind them with tomato, onion, hing, palak and salt. Add red chilli powder to the mixture and mix it well . The dosa batter is ready.
Make dosas out of the batter and serve hot with ridge gourd chutney.
For the chutney Take a small pan and heat tablespoon oil. Fry mustard seeds, methi seeds, green chillies, dry red chillies, grated coconut, hing for few seconds.
Add tamarind paste and make a dry paste(without adding water).
Cut the ridge gourd into small pieces. Add the remaining oil into the sauce pan then fry the pieces on a medium flame. Fry them until they are soft.
Add the fried ridge gourd pieces and the dry paste into a mixer and grind coarsely . Remove the chutney into a serving bowl and season it with urad dal ,hing and curry leaves.
Footnotes:
healthy diet filled with proteins minerals and fibres…