Lentils Chicken Curry
I made curry with red lentils and chicken breasts, This curry is not oily and has lots of health benefits, especially protein. Very light yet fills you up so you don't need rice or bread to go with (unless you really want to) which means it is perfect for your diet. #IndianDietRecipe Contest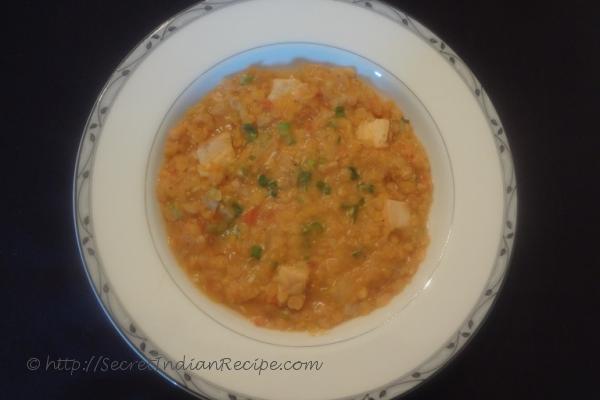 Ingredients:
3/4 cup Split Red lentils
1 small Sweet Onion
1 medium Tomato on the vine
1 tablespoon Olive oil
2 cups Water, divided
1 cup Grilled or baked diced chicken breasts
1/4 teaspoon Ground cayenne pepper
1 teaspoon Curry powder
1 clove Garlic
1 teaspoon Grated ginger
2 tablespoons Minced scallions
Directions:
1. Put lentils into a colander and rinse lentils under running water. Drain well. Transfer the lentils into a saucepan and add 1 and 1/4 cups of water to the saucepan. Stir to combine. Turn on the heat to medium-high and bring to a boil. Reduce heat to medium-low heat and cook lentils partially covered with a lid until tender like mashed potatoes (about 8 minutes).
2. In the meantime, peel and mince onion and garlic. Chop tomato. In another large saucepan or pot, heat olive oil over medium heat and cook garlic and ginger until fragrant. Stir in onion and cook stirring constantly until onions are softened. Add chicken, tomatoes, cayenne and curry powder to the saucepan/pot, reduce heat to medium-low and cook for about 1 minute.
3. Add cooked lentils (with the hot water if remains in the saucepan) and 3/4 cup of water to the saucepan/pot (add more if necessary to cover the all ingredients in the pan/pot). Simmer stirring occasionally for 15 minutes. Then stir in scallions and salt to taste.
4. Put the curry into each serving plate or bowl.