Litchur Payesh (litchi Kheer)
It was chilled, creamy and mildly sweet. The first time I had this was in my friend Arunima's place in Shantiniketan. We were invited by her mother over lunch. It was a grand lunch cooked with major ingredients brought from their own garden. Arunima had a Litchi tree in her backyard and her mother had prepared 'Litchur Payesh' for dessert that day. A sinful recipe for dessert lovers from Bengal.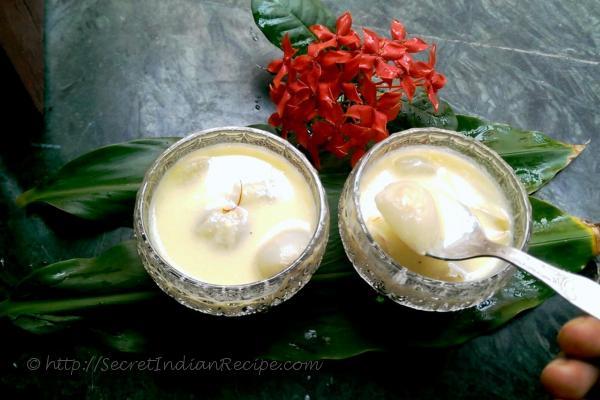 Ingredients:
Milk - 500 litre or Home made cream 1 cup
Saffron soaked in milk – 2 tablespoons
Cardamom – 1 crushed in powder
Sugar to taste approx – 1-2 tablespoons
Litchi – 1 cup
Directions:
Peel the Litchi and take out the seed. Keep aside.
In a pan pour the milk and let it boil till it is reduced to one fourth. If you are using cream then it will take less time as it is already condensed. You can add cardamom powder at the beginning.
Add saffron soaked milk and sugar. Mix it till the sugar dissolves.
Now add the Litchis in the milk. Please note that the litchis has to be sweet or otherwise the milk will curdle. Cook for few seconds and then turn off the gas.
Chill the payesh in refrigerator and enjoy. You can garnish it with chopped nuts if you wish