Litti Chokha (roasted Flour Balls With Mashed Potato)
Litti chokha is a typical uttarpradesh and bihar recipe. It is basically wheat flour balls which are roasted traditionally over " chulha' or ' angithi' and is served with mashed potatoes. Interestingly the potatoes were also roasted in the firewood. In modern times however due to non availability of firewood litties are prepared either on gas stove or oven and potatoes are boiled.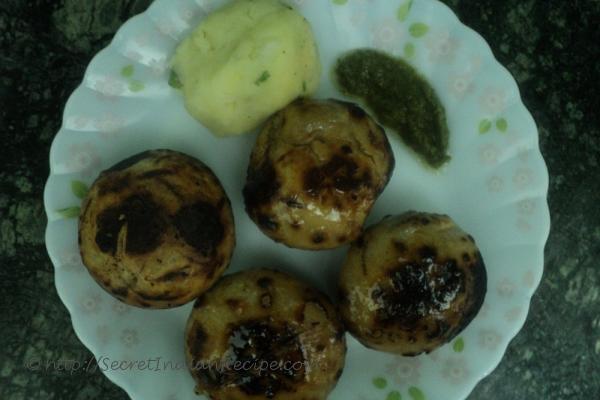 Ingredients:
Wheat flour 2 cups
Water 1 cup
Ghee 2 tablespoon
Potato 3-4 pieces (boiled and peeled)
Green chilli 2 pieces
Green coriander leaves 2 tablespoon(finely chopped)
Onion 1 tablespoon(finely chopped)
Salt ½ tablespoon
Mustard oil 1 tablespoon
Directions:
For the litti, first take wheat flour in a bowl and then by adding water make dough. Then make small balls from the dough and then flatten the heads by palm.
Place a roasting plate over the gas and roast the flour balls on low flame till the surface cracks. In a karahi heat the ghee and immerse the litties in the ghee. Leave it till serving.
For the chokha, mash the boiled potatoes and then add salt, mustard oil, green chillies, green coriander and onion and mix them all well.
Serve the chokha with already prepared litti and coriander chutney.