Litti Chokha (wheat Flour Spice Stuffed Patties Served With Grilled Egg Plant Mash)
Litti Chokha is a popular Bihari snack (from State of Bihar in India) can take your vegetarian barbecue to the next level. The dish has a perfect balance of tastes and textures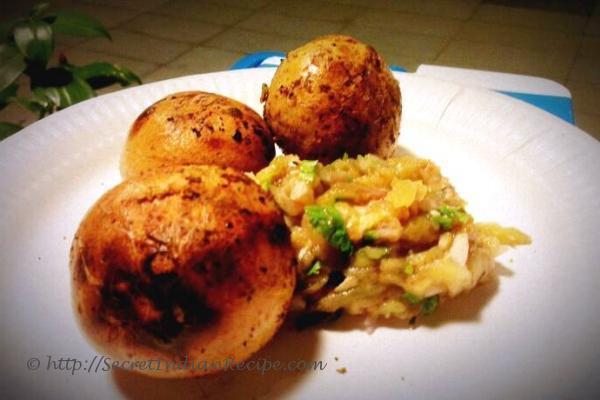 Ingredients:
For Dough :
1 Cup Wheat Flour
1 Tbsp Ghee (clarified butter)
1/2 tsp sugar
Salt to taste
Water for kneading
For Stuffing :
1/2 Cup Sattu Mix (More about Sattu in footnotes)
1 tsp finely chopped ginger
1 tsp finely chopped garlic
1/2 tsp finely chopped green chilies
2 tsp finely chopped coriander
1 tbsp any pickle masala (spicy, sour and tangy taste)
1 tsp Good quality mustard oil
1 small onion finely chopped
Salt to taste (about 1/2 tsp)
Water for boiling
For Chokha (Egg Plant mash) :
1 Big Baingan (Brinjal or eggplant)
2 Tomatoes
1 tsp finely chopped green chilies
1 tsp minced garlic
2 tsp fresh green coriander chopped
Salt to taste
2 tsp mustard oil
1 small onion finely chopped
Directions:
For the Litti Dough::: In a large bowl, combine all dough ingredients and knead using warm water. The dough should be soft but not sticky. (Similar to chapatti dough)Cover with wet cloth and set aside
For the stuffing::: Take sattu in a large bowl, add all ingredients to the sattu (ginger, garlic, chilies, coriander, onion, pickle, salt, mustard oil) mix well taste for seasoning. Set aside
Making the Littis::: Make small round balls of the dough. Make a well in centre of the balls and add a tbsp full of stuffing in it. Cover and roll between your palms to make a nice stuffed dumpling
Continue this for the remaining dough. Once all the dumplings are stuffed. Boil water and tip all dumplings in enough water for 5- 10 minutes to cook the dough and all ingredients inside.
Once cooked, let them cool. Grill the littis on bbq or charcoal grill just before serving.
For the Chokha::: Place the tomatoes and egg plant directly on stove or high bbq heat. Roast them evenly. When well done remove from heat and allow the roasted vegetables to cool. Discard the skin and mash them up in a large bowl
Add all the chokha ingredients to the tomato and eggplant mixture. Mix well garnish with some more coriander leaves and serve with the hot charcoal grilled littis
Footnotes:
Sattu originated in Bihar and is of various types. In this recipe we use sattu made up of roasted chick peas which are ground to a fine powder. Easily available in Indian grocery stores
If you don't have or find Sattu, you may use regular chickpea flour (besan) as an alternative to Sattu.