Loki Kadam (bottle Gourd Sweet Balls)
It is very unlikely that Loki is one of the favourite vegetable of anyone. To make it interesting and to make everyone take it for its food value, I cooked a fusion of loki as a sweet dish to make everyone enjoy great food with nutritional value!! #DiwaliRegionalRecipe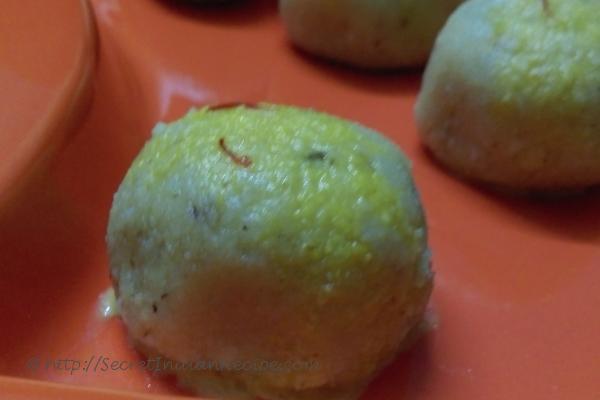 Ingredients:
Grated Loki ( Bottle gourd) - 1 cup
Milk - 2 cups
Ghee - 2 tbs
Sugar - 2 tbs
Cardamom powder - 1 tsp
Cashew nuts ,raisin , pistachios and mix well ( fried)
Saffron 1/2 tsp dissolve with little milk
For outer layer
Mawa -1 cup
Paneer -1/2 cup
Sugar powder -1 tbs
Cardamom powder - 1 pinch
Directions:
For stuffing:- Heat milk in a non stick pan and cook till reduced around to half.
Heat ghee in another pan, add bottle gourd ( grated Loki )and sauté for 5 to 7 minutes . Add reduced milk and cook , stirring continuously, till all the liquid has evaporated.
Add sugar, cardamom powder and fried dry fruits and mix well. Divide mixture into equal small portions
For outer layer:- Heat a kadai add grated Mawa, add sugar powder, paneer and stir it continuously & cook It over low flame until mixture turns little dry but is still moist .
It will take around 7 to 8 minutes. When it is still warm knead well until smooth.
Divide mixture into 10 small portions, make a small ball, lightly flatten the balls by pressing it in centre using the thumb . Thin the edges and place the Loki ball in it .
Now cover the Loki ball with the khoya mixture. Garnish with saffron milk . Now Loki kadam is ready to serve.