Luchi (refined Flour Puri )
Luchi is a Bengali delight. However it is the same recipe which is known as ' Puri' across India . The difference being in the main ingredient. In Bengali Luchi we use refined flour whereas in ' Puri' we use wheat flour, which is a more healthy option.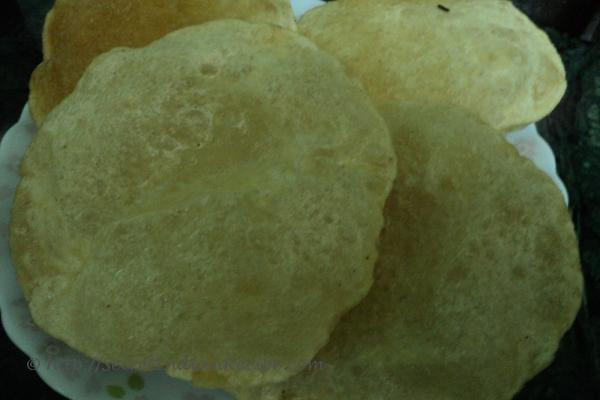 Ingredients:
Maida (Refined Flour) 150 grams (5.5 ounce)
Refined oil 10 tablespoon / 10 miligram
Water 1 cup
Directions:
Seive maida in a bowl, add 4 tablespoon of refined oil and mix it well. Then add water and make dough.
Afterwards take very small balls from the dough and flatten it by using chawka and belon,(rolling pin) just like chappati (the size is of course comparatively small).
Pour the rest of the oil in a Pan or Karahi and shallw fry the luchis one by one. Serve hot with aloo aur potol bhaja.
Footnotes:
One can use wheatflour instead of refined flour as a healthy option.