Macha Chechda (fish Head Pieces Mixed With Vegetable)
This recipe is a very popular and traditional fish curry dish from the Oriya kitchen. Whenever there is a marriage celebration or get-together party, we Oriya people prefer to prepare this recipe. This recipe is specially prepared with fish head, vegetables and lentil which make it healthy as well as nutritious. I was first introduced to this recipe in my childhood days. People who love to eat fish should try this recipe. I learnt this recipe from my elder sister who loves to cook non-vegetarian dishes. It is best served with rice at lunch or dinner.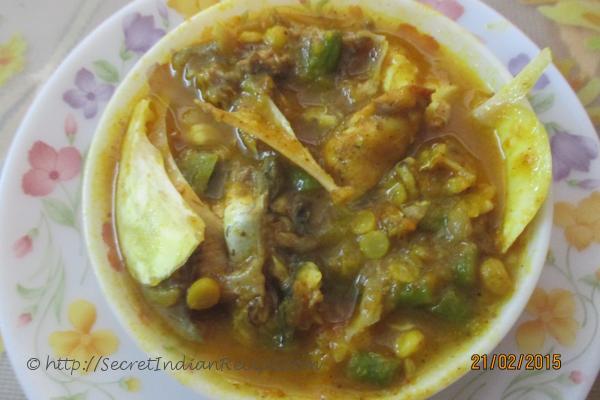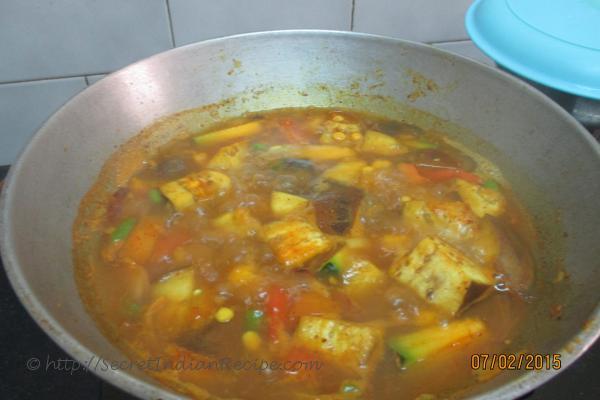 Ingredients:
One fist of chana dal (Bengal gram lentil)
One fish head
One tomato (chopped)
One potato
One eggplant
50 gms of pumpkin
50 gms of beans
1 onion (chopped)
2 tablespoon ginger and garlic paste
1 and 1/2 teaspoon turmeric powder
1 teaspoon chili powder
1and 1/2 teaspoon garam masala powder
4 tablespoon mustard oil
Salt as per taste
Sufficient amount of water
Directions:
Soak the Bengal gram (chana dal) in a cup of water for 20 minutes.
Cut the vegetables into small pieces. Cut the fish head into two pieces.
Put the fish heads into a bowl and then add 1/2 tea spoon turmeric powder, 1/2 tea spoon red chili powder, 1/2 tea spoon garam masala powder and 1 tea spoon oil into the bowl.
Mix well and keep the marinated fish heads aside for 10 minutes.
Place a frying pan on the stove.
Pour 2 table spoon of oil into the pan and spread all over the pan.
When the oil gets heated, put the cut fish heads into the pan.
Fry the cut fish heads for some time till they get fried well. The stove should be adjusted in a medium flame.
After 10 minutes, that is when the fish heads got fried well, remove the frying pan.
Place a kadhai (deep frying pan) on the stove. Pour 2 table spoon of oil into the pan.
When the oil gets heated, add chopped onions and sauté for some time till they turn into a golden-brownish color.
Now add ginger and garlic paste and sauté for some time till they separate oil.
Add chopped tomatoes and sauté until the tomatoes become tender.
Meanwhile remove the extra water from the Bengal gram and add it into the pan.
Sauté for some time then add the cut vegetables and mix them well.
Next, add the turmeric powder, chili powder, garam masala powder and salt into the vegetables and sauté well.
Pour water into the pan, cover with a lid and allow the vegetables to get cooked on a medium flame.
Cut the fried fish heads into smaller pieces (To make smaller pieces of fish heads, refer to the footnotes).
Add the fried fish head pieces into the pan, mix and cover a lid.
The stove should be adjusted in a medium flame.
Keep checking and stirring the vegetables as they are getting cooked.
The vegetables will take 25 to 30 minutes to get cooked.
When the vegetables and Bengal gram lentil get cooked well, mix them well and switch off the stove. Serve hot with rice.
Footnotes:
You can use a pressure cooker instead of a deep frying pan.
You can add more vegetables if you want.
For cutting the fish heads into smaller pieces, we generally wrap the fish heads with paper and hit it with a heavy object like a hammer.