Macher Kalia
Besides the Macher Jhol that everyone knows about,we Bengalis also make Macher Jhal and Macher Kalia. And believe me they are more tasty than the former. Macher Kalia is made on special occasions like marriage feasts etc so it is on a grand scale and one shouldn't count calories while relishing it.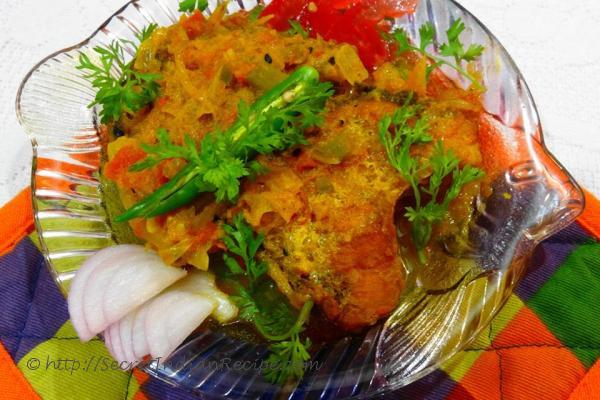 Ingredients:
5/6 Large pieces of Rui or Katla
2 Big Onions grated
2 Tsp Garlic paste
1 Tsp Ginger paste
2 Big Tomatoes grated
Whole Garam Masala-1 Cinnamon stick, 2 Green Cardamom, 2 Cloves
1 Tsp Coriander powder
1/2 Tsp Cumin powder
1 Tsp Red Chilli powder
1/2 Turmeric
2/3 Slit Green Chillies
Salt to taste
Chopped coriander leaves for garnish
2/3 Tbsp Mustard Oil
1 Bay Leaf
Water as per need for the gravy
Directions:
Use really big pieces of which ever fish you want. Wash them well and rub with salt and turmeric and keep aside for a while.
Use a hand grater for the pastes and not a blender if possible. Heat oil in a pan and shallow fry the fish pieces till they get a nice golden colour. Remove and keep on a paper towel.
Add more oil to the pan and when it reaches smoking point add the bay leaf and whole garam masala. Once they crackle add the grated onion and fry for 4/5 mintues or till it starts browning.
Then add the ginger and garlic paste. Fry for another 5/10 mintues.Then add the tomatoes, salt, turmeric, cumin and coriander powder and chilli powder.Keep roasting the masala till oil separates.
Then add water as per need for the gravy. Once it comes to a boil, add the green chillies and reduce the heat to sim and let it simmer for 10/15 mins.
Check the consistency and salt etc at this point. Lastly add the fried fish pieces and let it simmer for another 10 mins. Garnish with coriander leaves and serve with hot steamed rice.
Footnotes:
Use really big pieces of which ever fish you want.
Use a manual grinder for the pastes and not a blender if possible.
This dish is basically prepared with river fish and doesn't go well with seafish. Even if one wants boneless fish then also river fish needs to be used.
Other Indian Recipes that you may Like !