Macher Kaliya (fish Kaliya)
Macher kaliya is a Bengali side dish recipe. The word 'Kaliya' literally means Spicy. Fish is cooked with Onion, garlic and other Indian spices and it is a gravy recipe.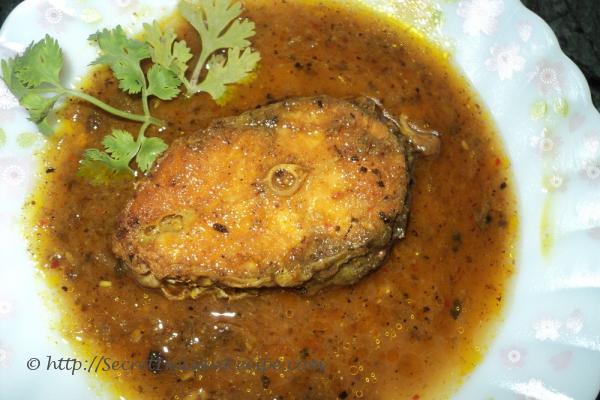 Ingredients:
Bhetki or Rohu fish 250 grams (9 ounce)
Onion Paste 1/2 cup.
Ginger -Garlic paste 1 and 1/2tablespoon
Red chilli powder ½ tablespoon
Cumin powder 1/2 tablespoon
Gram masala 1 tablespoon
Green chillies 4-5 pieces (cut in halves)
Turmeric powder 1 tablespoon
Mustard Oil 6 tablespoon
Salt 1 tablespoon
Directions:
First wash fish thoroughly and drain the excess water. Apply turmeric, ½ tablespoon of ginger garlic paste, 1 tablespoon of onion paste and ½ tablespoon of salt over the fish.
In a karahi pour 3-4 tablespoon of mustard oil and shallow fry the fish.
In the remaining oil put onion paste and ginger garlic paste and sauté for 2-3 mintues. Afterwards add cumin powder, turmeric powder, red chilli powder and garma masala and fry till the masala leaves the oil.
Add fried fish, salt and 1 cup of water, mix well and put the lid on. Cook on low flame for 10 mintues. Garnish with Coriander leaves and serve hot with plain rice.
Other Indian Recipes that you may Like !