Macher Tok (sour Fish Curry )
Macher Tok is a sour fish curry which is a bliss in the summer time in West Bengal. This recipe has been passed from my mother to me and probably from my grandma to her. My mother hails from the Burdwan district of West Bengal and this is a special cuisine of her region. She wanted me to try this dish and I am glad I did. Its simple and does not require any fancy ingredients. Its a soulful food and serve as a side dish with rice.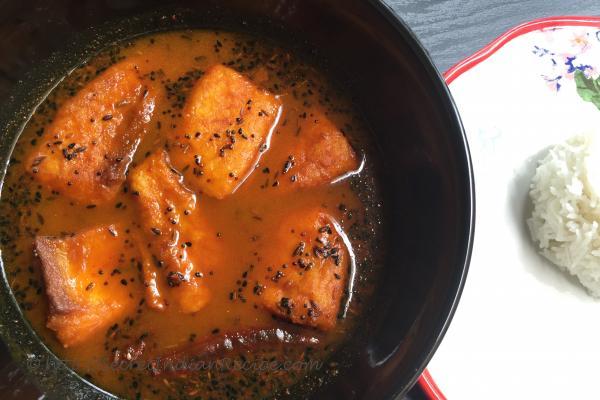 Ingredients:
5 medium size Fish pieces ( I used Swai fish fillets , back home Rohu or Katla fish is used)
1 tsp Turmeric powder
1 tbsp seedless Tamarind paste soaked in 1.5 cups water
1/4 tsp Nigella seeds (kalonji)
1/2 tsp Cumin seeds
1/2 tsp Fennel seeds
1/2 tsp Mustard seeds
3-4 Fenugreek seeds
2 dry Red chillies
2 tsp Mustard Oil
3 tbsp Sugar /Jaggery ( adjust as per your taste )
1/2 tsp Red chilli powder (adjust as per your taste )
1/2 tsp Black salt ( adjust as per your taste )
Oil to deep fry
Salt as per taste
Directions:
Wash and clean the fish pieces. Pat it dry well with kitchen paper towel. Marinade the fish pieces with half a teaspoon of turmeric and a pinch of salt. Keep it aside for 5 minutes.
Heat oil in a deep heavy bottomed pan over medium high heat. When the oil is hot, deep fry the fish pieces till it turns golden brown on both the sides. Take it out on a plate and drain the excess oil by resting on absorbent material or kitchen paper towel.
Strain the tamarind water and keep it aside. Remove the pulp.
In a separate wok or pan, add mustard oil. When the oil starts to simmer, add mustard seeds, nigella seeds, fennel seeds, fenugreek seeds and cumin seeds on low medium heat. These 5 spices together is known as panch phoron in bengali. When the seeds stop cracking, add dry red chillies, remaining turmeric powder and salt. Add the strained tamarind juice, sugar, black salt and salt as per taste.
Cover and cook for 7-8 minutes on low medium heat or till the gravy thickens.The consistency of the curry should neither be too thick nor too thin.
Remove the lid. Add the fried fish pieces and simmer the curry for 2-3 minutes on low medium heat. Turn off the heat and transfer the fish curry to a serving bowl and let it rest stand still for 5-10 minutes before serving.
Serve it as a side dish with rice.
Footnotes:
To test the temperature of the oil for frying the fish, drop a bit of green onion in the pan. If it immediately starts to sizzle, the oil is ready for the fish.
Other Indian Recipes that you may Like !