Machher Mathar Pui Saag Chorchori ( Pohi Greens With Fish Head)
Pui saag chochhri is very common traditional Bengali dish. It can be made in both ways veg and non veg. I tried to cook it with Rohu fish head to turn it in a non veg preparation. Just omit adding the fish head and it can be a pure veg recipe.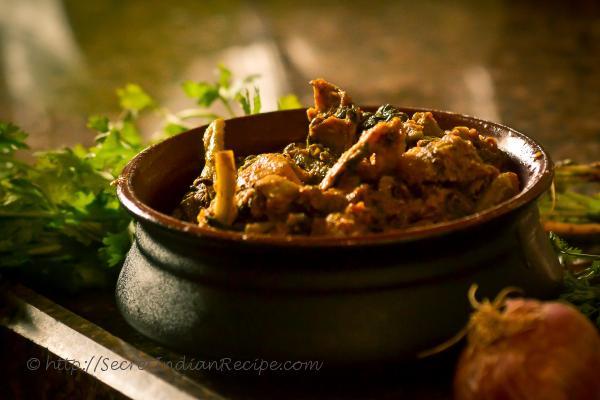 Ingredients:
Pui Saag (Pohi Greens or climbing spinach) 500 grams
Onions 100gm (for non veg) Chopped
Garlic 8-9 nos
Vegetables (Potato, Pumpkin,Brinjal ,Beans,Parwal) 50 grams each
Paanch Phoron 1 tsp (Bengali seasoning agent) see footnote
Dry Red chilli or Green chilli - 2-3
Turmeric Powder 2 tsp
Mustard Oil - 4-5 tablespoon
Fish Head (Rohu/Katla/Ilish) - 1 or 2
Coriander powder - 1 tablespoon
Mustared Seeds - 1/2 tablespoon
Sugar and Salt to taste
Directions:
Peel all the Vegetables and cut into small pieces.
Clean and wash the fish head and deep fry with salt and turmeric powder. When it turn brown remove it from oil and keep aside (for non veg).
Add 1/2 spoon panch Phoron, onions and red chilies in oil.
Fry the onion till it turns brown.
Add the fish heads and all vegetables. Put some salt, turmeric and chilli powder,sugar and stir well.
Make a paste of mustard seeds, garlic and coriander powder in a blender.
Cover with a lid. No need to add any water as the vegetables will release their water when cooked.
Before all the vegetables water dries up add the masala paste (mustard seed,garlic,coriander}and cook for 8-10 mins till the curry looks mushy.
Serve with hot steamed rice.
Footnotes:
Paanch phoren is a mix of Fennel seeds, Mustard seeds,Fenugreek seeds, Onion seeds and Carom seeds.