Machli Ka Salan (andhra Special Fish Curry)
Machli ka salan is quite popular in Andhra Pradesh. Fish is cooked in a thick ginger and garlic based gravy. The preparation is quite similar to Bengali recipe of ' Macher kaliya'.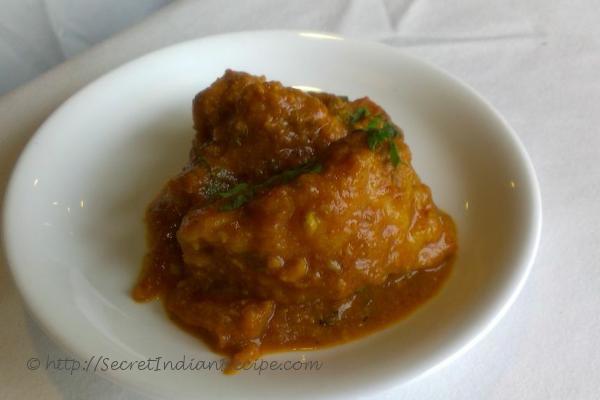 Ingredients:
Fish - 1/2 kg
Oil - 1 cup
Ginger - garlic paste - 1 and 1/2 tablespoon
Red chilli powder - 1 and 1/2 tablespoon
Turmeric powder - 1 tablespoon
Lemon juice - 1 lemon
Coriander powder - 2 tablespoon
Salt - as per your need.
Directions:
Wash the fish thoroughly and marinate it with 1/2 tablespoon of ginger - garlic paste, 1/2 tablespoon of salt, 1/2 tablespoon of red chilli powder, 1/2 tablespoon of turmeric powder and 1/2 of lemon juice for 1 hour.
Heat oil in a pan.
Slowly put the marinated fish in batches and fry till they turn golden brown. Take them out and keep separately.
In the remaining oil, add ginger garlic paste and sauté for few seconds. Now add any remaining masala/ marinade and coriander powder and fry for a few mins
Add two cups of boiled water and let it boil.
Now add the fish and cook till the fish is done.
Adjust the salt and at the end . Mix the remaining lemon juice.
Serve hot with steamed rice.
Footnotes:
You can add chopped coriander leaves at the end to enhance the taste.
Other Indian Recipes that you may Like !