Macroni Kheer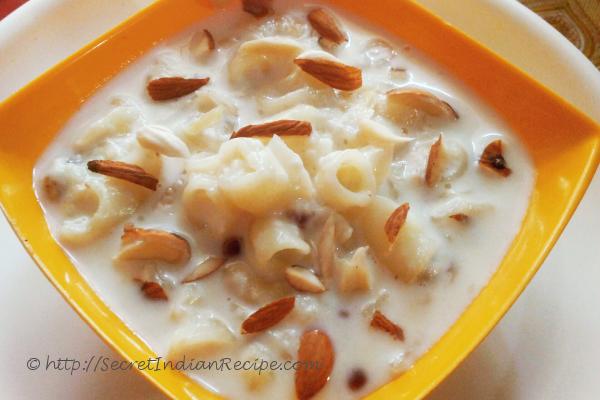 Ingredients:
1/4 Cup Macroni
1tbsp crushed dryfruits of your choice
2-3 tbsp sugar
1 powdered green elaichi (Green cardamon)
1liter full cream milk
Directions:
Boil water, add 2/3 drops of ghee to it and then add macroni to it and let the macron i cook in boiling water
On the side keep the milk for boiling too
Boil the milk on medium heat till it reduces to half. Once its reduced to half, add cooked marcroni to it.
Add sugar and let it cook together on medium flame till the mixture gets thickened.
Once you see the kheer thickening add dryfruits, elaichi powder (Green cardamon powder)
Let it cook for two more mins, then remove from heat and allow to cool.
Serve at room temperature or chilled