Madatha Kaja
#DiwaliRecipe or #DiwaliRegionalRecipe - Madatha kaja is a traditional sweet usually prepared in Andhra Pradesh during festive time like deepavali and on several occasions. The sweet is crispy outside and juicy inside :) . Do try this layered sweet at home..
And Happy Deepavali to all :)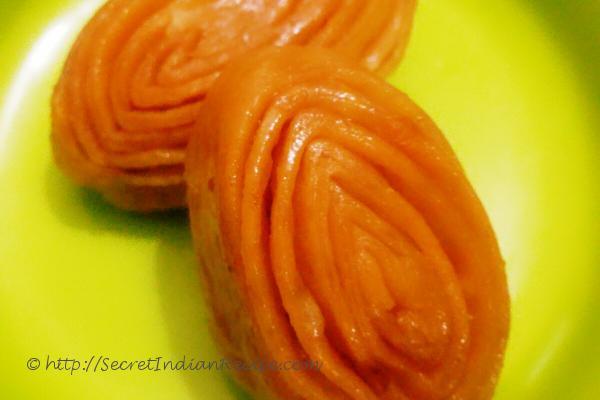 Ingredients:
Preparation of Dough - All purpose flour - 1 cup,
Baking soda - a pinch,
Salt - a pinch,
Clarified butter / Ghee - 1/4 cup,
Water - To knead the dough,
To spread - Rice flour - 3 tablespoons,
Ghee - 2 tablespoons,
Preparation of Sugar syrup - Sugar - 2 cups,
Water - 1.5 cups
Oil - For deep frying.
Directions:
In a bowl , add all purpose flour, baking soda, salt and clarified butter. Mix this well to avoid lumps. Sprinkle water little by little and knead it to form a soft dough like chapati dough. Allow this dough to rest for half an hour.
Preparation of Sugar syrup - In the meanwhile , heat a pan over low flame.Then add sugar to it. Pour water to this and stir continuously until the mix attains a string consistency. Switch off the flame, once this consistency is attained.
For spreading - Take a bowl, mix the rice flour and ghee to form a paste. Keep this aside.
Now take the soft chapati like dough, knead it again. Make small balls out of this dough.
Roll out each ball into very thin chapatis. Apply the prepared spread i.e mix of ghee and rice flour evenly on the chapati. Place second chapati on this. Apply the spread again.
Similarly make a pile of four to five chapatis by keeping one on top of the other and repeat the process.
Now roll this bunch into a mat and then cut it into 1" pieces . And gently pinch both the corners so as to retain the shape during frying.
Then slightly flatten the cut pieces .
Heat oil in a pan over high flame. Then reduce the flame to low and drop the kajas one by one into the hot oil. Fry these kajas on both the sides till they turn golden in color.
Transfer the fried kajas and drop them immediately into the warm sugar syrup. Soak them in the syrup for 5 minutes. Then remove them from the syrup and arrange these on a serving plate.
Serve the hot kajas.
Footnotes:
These kajas can be dried and stored in an airtight container for 10-15 days.
Don't overboil the sugar syrup. Maintain a right consistency so as to ensure that the syrup is absorbed by the kajas perfectly.