Madhu Diye Gajor (honey Carrot)
Honey carrot is a snack recipe. The main ingredients are carrot and honey. Carrot and honey both are good sources of vitamin A. Carrot is also known to be beneficial for heart patient.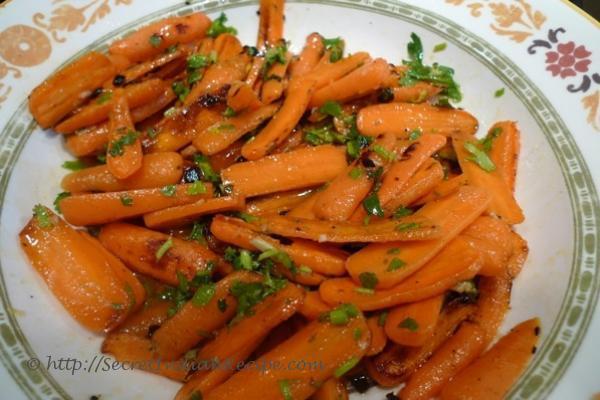 Ingredients:
Carrot 250 grams (9 ounce)
Cumin powder ½ tablespoon
Green Chillies 1 – 2
Honey ½ tablespoon
Garam Masala Powder ½ tablespoon
Corianader leaves 2 tablespoon chopped
Kalojira (Nigella seeds) ¼ tablespoon
Mustard / refined oil 3 tablespoon
Salt 1 tablespoon
Sugar 1 tablespoon
Directions:
First cut the carrot into rectangular pieces. Then boil it for ten mintues and keep aside.
In a pan or Karahi put 3 tablespoon of oil and put the kalojira. After few seconds put the green chilies, boiled carrot, cumin powder, garam masala powder, salt, sugar & cook in low flame for ten minutes.
Now, add honey and water (3 – 4 tablespoon) and cook for another 5 minutes. Honey carrot is ready.
Serve it as tea time snack or as a side dish.