Magur Macher Er Aloo, Potol, Sojne Datar Jhol (cat Fish Recipe)
(Cat fish curry with potato, parwal & drum sticks)
I don't know why this fish is called Cat fish. It doesn't look like a Cat in any way , but may be due to its whiskers, it is called so.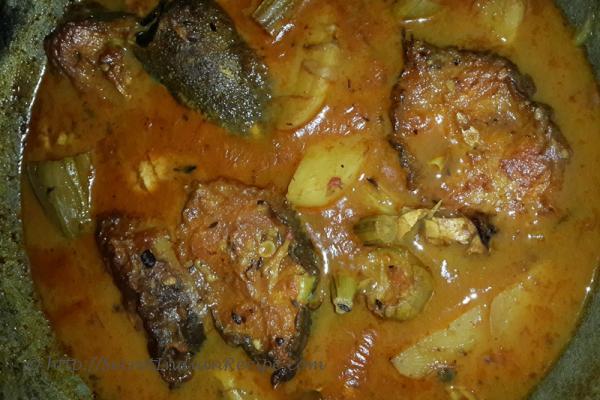 Ingredients:
Magur Fish (Cat Fish) - 6 pieces
Potol (Parwal/ Pointed gourd) - 6 nos
Potato - Big Size - 3 nos
Drum sticks - 1 no.
Onion - Big Size - 1 no.
Tomatoes - 2 nos
Dhania (Coriander) leaves - half a bunch
Jeera (Cumin)powder - 1 table spoon
Red Chilli powder - 1 table spoon
Haldi (Turmeric) powder - 1 table spoon
Salt - 1 table spoon
Mustard Oil - 1 1/2 table spoon for curry
Mustand Oil - 3 table spoon to fry the fish
Water - 6 cups
Directions:
Preparation for Fish: 1. Clean and cut the fish into small pieces. In a bowl place the fish, add 1/2 tablespoon turmeric, 1/2 table spoon salt and 1/2 table spoon chilli powder and mix it properly. Keep aside for half an hour for marination.
2. Now place the wok (kadai) on fire and pour 3 table spoon oil. Wait till the oil stars smoking and there is no smell of raw mustard coming from the oil. Then put the slices of fish one after another and fry on both sides till the fishes are golden brown. The fishes would splutter a lot so take precaution. Keep them aside.
3.Chopping the Vegetables : Slice the onions finely. Peel the gourd lengthwise keeping some skin on it (otherwise it will become too soft after cooking). Cut it into half lengthwise. Peel the potatoes and cut them into four pieces lengthwise. Chop tomatoes into four cubes. Peel the drum sticks and cut them into nearly 3 inches. Chop coriander leaves.
Preparing the dish: 4. Now place another wok (kadai) on fire and pour 1 1/2 tablesppon oil Wait till the oil stars smoking and there is no smell of raw mustard coming from the oil.
5. Add onions. Cook it for a minute. Add the rest of turmeric, chilli and cumin powder and cook for another 2 minutes.
6. Now add the cut potatoes, gourd and drum stick and stir all together. Let it cook in medium flame. Stir occasionally to avoid burning.
7. When the vegetables are nearly cooked add the chopped tomatoes cook till the tomatoes are soft. Now add water in the wok and let it boil.
8. Now add the fish slices and stir softly so that the fishes should not break and bring to boil again for 5 minutes.
9. Garnish with coriander leaves and serve with rice.
Footnotes:
May add or reduce salt/chilli/water as desirable
Other Indian Recipes that you may Like !