Makai Ke Dane Ki Sabji (veg Masala Corn)
Veg Masala Corn can be made in different ways. It takes just 20-25 minutes to make from start to finish but the results are very satisfying indeed. You can find this recipe easily in the menu of most Indian restaurant. So, here is the recipe of everyone's favourite and delicious Veg Masala Corn.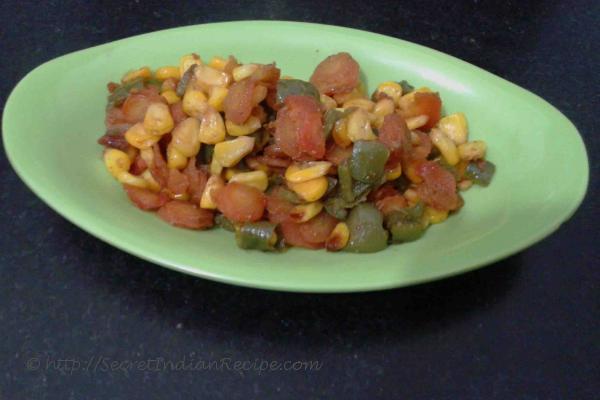 Ingredients:
Fresh sweet corn – 1 cup (boiled kernels)
Capsicum – ½ cup (chopped)
Carrot – ½ cup (chopped)
Green chillies - 2-3 pieces (chopped)
Turmeric powder - 1/2 teaspoon
Coriander powder ½ teaspoon
Red chilli powder - 1/4 teaspoon
Garam masala powder - 1/4 teaspoon
Dry mango powder (amchur) - 1/4 teaspoon
Cumin seeds – ¼ teaspoon
Vegetable Oil – 3-4 teaspoon
Salt to taste
Directions:
In a deep pan heat the oil.
Once oil gets hot add cumin seeds, as soon as they start crackling add the chopped green chillies.
Add boiled corn and some salt and sauté for 5-7 minutes.
Now add the chopped capsicum and carrot and mix well.
Cover with a lid and cook on a low flame until the veggies are done (mix at regular intervals).
Now add the salt, turmeric, red chilli powder and coriander powder and garam masala. Mix well and cook for another 2-3 minutes.
Turn off the heat. Sprinkle some dry mango powder and serve hot.
Footnotes:
I have used carrots, capsicum and corn for this recipe. You can use other mix veggies according to your taste and availability.