Makhane Ki Sabzi (lotus Seeds/ Fox Nut Curry)
Makhana also popularly known as fox nut is a versatile ingredient. Just like paneer it can be prepared in sweet & savory ways. While looking for Makhane recipes online I came across a lot of sweet variations and the savoury or spicy recipes using makhane were limited. So here is my simple curry recipe using just Makhane & peas.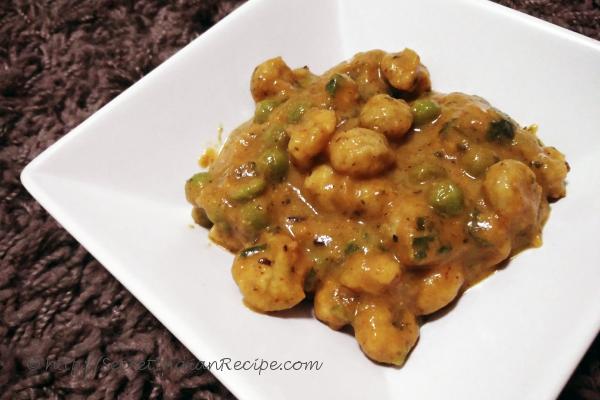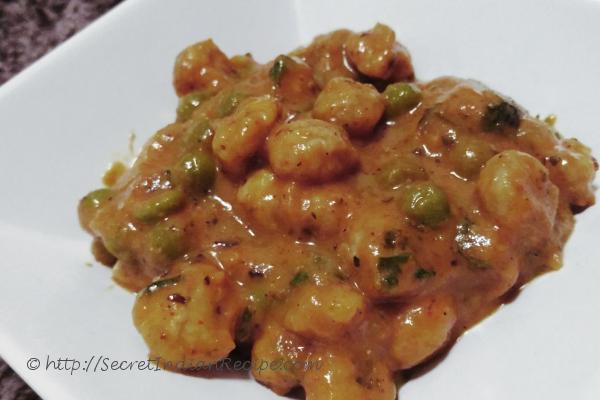 Ingredients:
Makhane (Fox nuts/lotus seeds) : 1 Cup
Onions: 2 finely chopped
Tomatoes: 1 Finely chopped
Peas: 1/2 Cup
Salt to taste
Ginger Garlic paste: 1 Tsp
Dhana Jeera powder (Cumin & Coariander Powder mix) 2 Tsp
Garam Masala : 1/2 Tsp
Kasoori Methi : 1/2 Tsp
Mustard oil : 1 tbsp ( veg oil will also do)
Sugar 2 tsp
Cashew nuts 10 pcs
Directions:
Soak the cashew nuts in warm water for an hour. Slighly dry roast the makhane to make them crispy
Heat a clean pot and add oil. When oil is hot add onions and saute till light pink
Now add ginger garlic paste, dhana jeera powder and tomatoes. Cover and cook for 5-6 mins on low heat till the masalas are cooked and the onions & tomatoes completely disintegrate.
Add in the peas, cover and cook for 5 mins more . Grind the cashews using 3-4 tbsp of water to a smooth paste
Check if the peas are cooked and add in about 1 cup of water, 1/2 tsp salt + 2 tsp sugar followed by the cashew nut paste.
Mix well, cover and cook for 3 mins or till the gravy thickens slightly.
Now add in the makhane, garam masala and kasoori methi. Stir well. Cover and cook on low hear for 10 mins
After 10 mins, the makhanas should soften and soak up all the flavors from the curry
Turn off the heat, garnish with chopped coriander and serve hot with naan or chapatis
Footnotes:
Note: all the cooking for this recipe needs to me on low-medium heat. Only if you find the gravy/curry to runny then increase the heat to high to evaporate the water out of the pan.