Makhmali Bhindi (soft Creamy Stuffed Okra)
'Makhmali' literally means soft . Bhindi or Okra is loved by kids and in this recipe okra is stuffed with Paneer (Cottage cheese) to give it a soft texture. #IndianPaneerRecipe.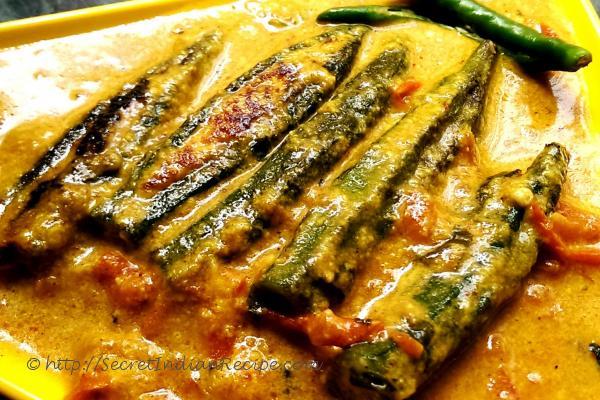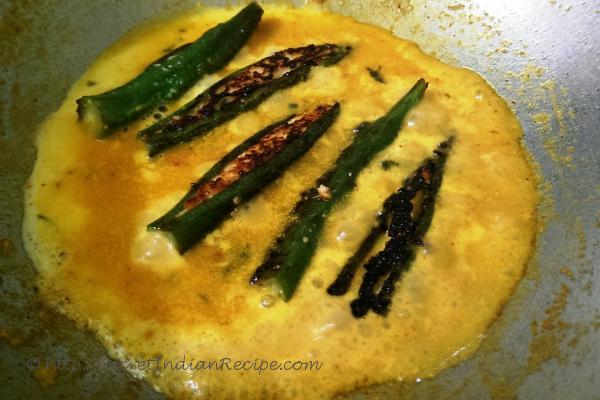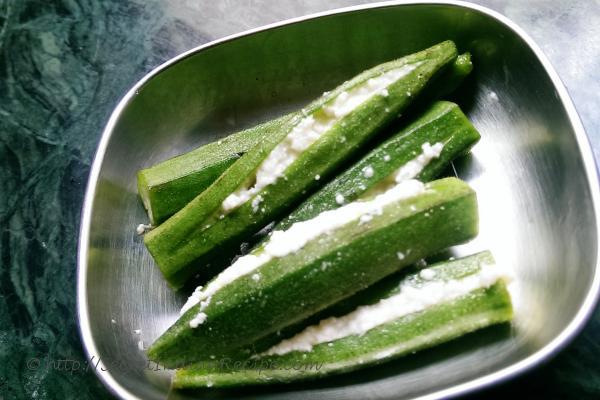 Ingredients:
Bhindi (Okra) – 100 grams (preferably log ones)
Paneer (Cottage cheese) – 50 grams
Sugar – 1 and half tablespoons
For Gravy
Onion – ½ of a small sized onion
Tomato – ½ of a small sized tomato
Ginger – ½ inch piece
Cashew – 5-6
Poppy seeds – 1 tablespoons
Cumin seeds Powder – 1 teaspoon
Garam masala powder – ½ teaspoon
Turmeric powder – ½ teaspoon
Red Chili powder – ½ teaspoon
Cream – 3-4 tablespoons
Kasuri Methi ( Dry Fenugreek leaves) – ½ teaspoon
Salt to taste
Oil – 4-5 tablespoons.
Directions:
Wash the Bhindi thoroughly and wipe the surface with a kitchen napkin. Chp off the two heads and make a slit on one side.
Knead paneer with sugar to form a smooth dough. Fill each bhindi with the paneer dough carefully.
Heat a non stick tawa and brush little oil. Then carefully place the stffed bhindi, Sprinkle salt to taste and cook till all the sides turn golden brown. Do this on medium flame.
For gravy make onion and tomato paste by grinding onion, tomato and ginger together.
Make a fine paste of cashew and poppy seeds by adding few drops of water. Using a manual grinder is best and easy.
Heat oil in a pan and add tomato and onion paste. Sauté for about a mintue. Now add all the powder masalas – cumin, garam masala, turmeric, red chili powder and crushed kasuri methi.
Fry till the masala leave oil from sides. Now add cashew and poppy paste and fry for another 1 mintue . Add ½ cup of water and bring the curry to a boil.
Add cream, fried and stuffed bhindi and salt to taste and mix. Cook for a mintue and then switch off the flame.
Garnish with finely chopped coriander and serve hot with Paratha.