Makka Chicken Tarkari (sweet Corn Chicken)
I invented this recipe with my husband. He is crazy about potatoes and asks me to put potatoes in every side dish that I prepare. My Hubby loves this dish very much. It is quite delicious.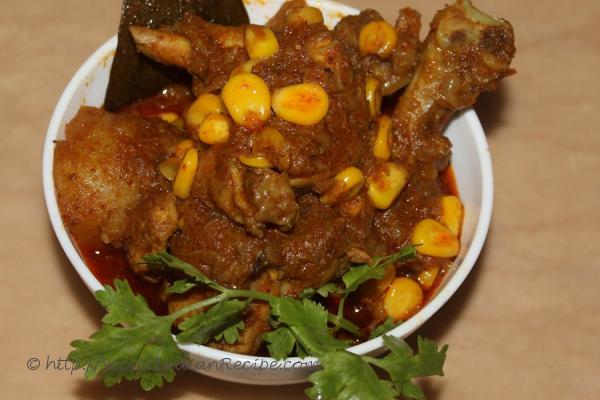 Ingredients:
Chicken 750gm
Potatoes 3pieces
Onions Large 5-6 pieces (chopped)
Tomato 1piece (chopped)
Sweet Corn 1Cup
Ginger garlic paste 5tablespoon
Turmeric Powder 1teaspoon
Kasmiri Lal Mirch powder 2 teaspoon
Cumin powder 1 teaspoon
Coriander powder 1teaspoon
Garam Masala powder 2teaspoon
Chicken Masala 2teaspoon
Cinnamon Stick 1inch (crushed)
Bay Leaf 1
Salt to taste
Rice Bran Oil 5-6tablespoon
Red chilli powder 1teaspoon
Water 2cup
Coriander leaves Chopped
Directions:
Wash and peel the potato skin, chop into half. Add 3 tablespoon oil in kadhai put the chopped potato and fry till it turns golden brown. Keep aside.
Wash the Chicken and keep aside.
Heat oil, add crushed cinnamon, bay leaf, add chopped onion and a pinch of salt to it, fry till it gets soft and brown .
Add kashmiri lal mirch, red chilli powder and little water. Then add ginger garlic paste, cumin powder, coriander powder, garam masala and chopped tomato to it, fry till oil starts coming.
Add chicken to it, add salt and mix well. Cover with a lid and Stir the chicken occasionally so that it does not get burn from below.
Cook till the masala starts releasing the oil, add fried potatoes to it.
When chicken get half cooked add water, chicken masala and sweet corn to it.
Cover and cook for 10-15 minutes, when the chicken is done, add garam masala to it. Garnish it with coriander leaves.
Serve it with rice or roti.