Makkai Masala (corn Cooked In Creamy And Spicy Gravy)
Corn is new Ingredient in Indian Kitchen just like Mushroom. Corn and mushrooms have been grown earlier also but their usage as vegetable is quite new. Mushroom was considered poisonous and the knowledge about not all the species of Mushroom is poisonous was less known. Similarly tender corn was consumed by roasting it on open fire and ripe corn was grounded and the corn flour was mixed with wheat flour to make chappatis . This practice still exists in many parts of rural India but thanks to media and growing rate of literacy, the old barrier regarding food habits are breaking and people now know that there are many non poisonous mushroom variety and that corn can be simply boiled and served as Butter corn or can be added in any side dish to enhance the flavour, taste and quantity. From health point of view, Corn is good source of carbohydrates and fibre and for me it is a savior like green pea, which I can store in my refrigerator and used whenever I want to. This recipe of ' Makkai masala' is my contribution to the variety of ways we can include corn in our meal.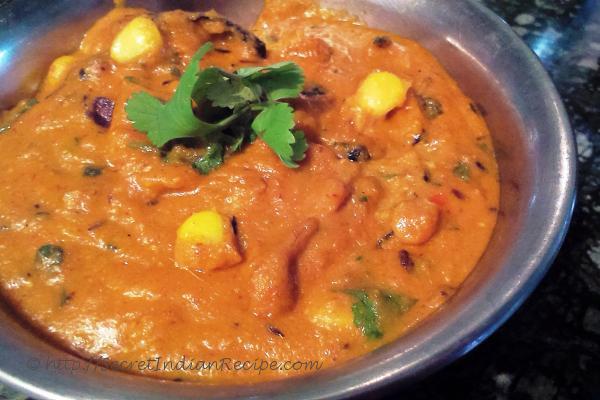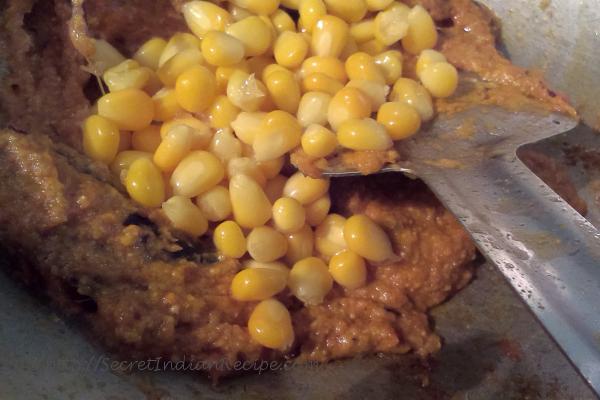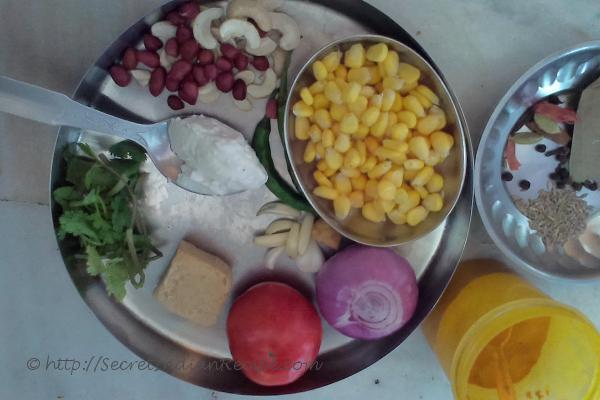 Ingredients:
Makkai (Corn) – 100 grams (Boiled)
Ginger and garlic paste – 1 and ½ tablespoon
Onion paste – 1 medium sized onion
Tomato paste/ puree – 1 medium sized tomato
Green chillies – 2 (Chopped finely)
Cumin seeds – ½ tablespoon
Black pepper – 4-5 (Crushed)
Whole garam masala – 1 clove, 1 Cardamom, 1 small stick of Cinnamon
Cashew and peanuts – 10 nos (Peanut is optional)
Curd – 1 tablespoon
Mawa/ Khoya (Condensed milk) – 1small lemon sized piece
Red chilli powder – 1 tablespoon
Turmeric powder – ½ tablespoon
Salt – To taste
Oil – 4-5 tablespoon
Green Coriander Leaves – 2 tablespoon (Chopped)
Garam masala powder – ¼ teaspoon
Directions:
Boil cashew and peanut in ½ cup of water in a bowl for 5 mintues. Switch off the gas and when cooled grind them into a smooth paste.
Heat oil in a pan and add the whole garam masala, cumin seeds and crushed black pepper.
Once it splutters add the onion paste followed by ginger and garlic paste. Fry the masala on medium heat till the raw smell of the masala evades.
Now add tomato puree, chopped green chillies, red chilli powder and turmeric powder and mix. Continue to stir till the masala leaves oil from the sides.
Then add Cashew and peanut paste and cook for about a minute.
Afterwards add curd and mawa and mix. Keep the flame low this time and stir for 2 mintues. Now add boiled corn, salt, garam masala ans ½ cup of warm water and mix.
Increase the flame to medium and let the curry simmer for 2 mintues. Check the consistency of gravy and finally garnish it with fresh coriander leaves and serve with Hot Chappati or Naan.