Makkai Paneer Ki Sabzi (corn Cooked With Indian Cottage Cheese)
This is a lovely combo because of the contrasting textures in this curry between the crunchy corn and soft paneer. Cooking is not just about mix and match of flavours but colours and textures too. The sweetness of corn also blends well with the saltiness of paneer and without loading it with spices you have a perfect curry that goes well with breads and rice. This is one curry that I always keep under my sleeve when we have vegetarian guests and it is always appreciated. It is also an under 30 minute dish, which means it needs no elaborate preparations.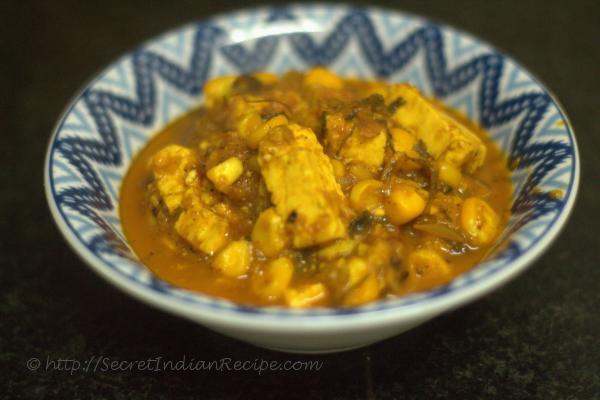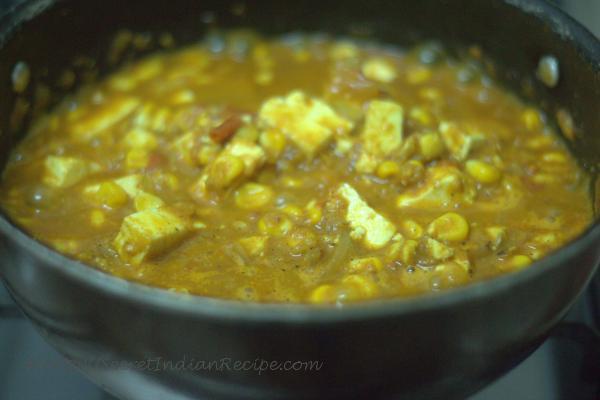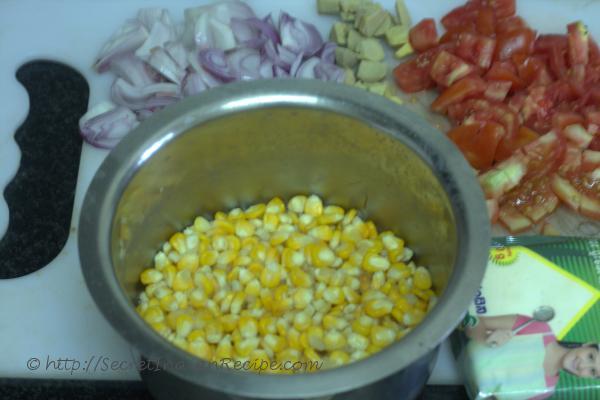 Ingredients:
Paneer- 200 g
Corn- 150 g
Onions- 2
Green Chilies- 2
Ginger- 1 inch long piece
Garlic- 5 cloves
Tomatoes- 3
Turmeric powder- 1/2 tsp
Chili powder- 1 tsp
Garam masala- 1/2 tsp
Coriander powder- 1 tbsp
Cumin seeds- 1 tsp
Coriander leaves chopped- 2 tsp
Kashmiri Chili powder- 1 tbsp
Kasoori Methi- 1 tsp
Fresh cream- 100 ml (optional)
Salt to taste
Oil- 2 tbsp
Directions:
Boil the corn in a sauce pan with 1 cup of water and a pinch of salt. Drain the corn after it has cooked.
In a pan heat the oil. Add the cumin seeds and let it splutter. After the cumin splutters add the chopped onions.
Saute the onions till they are golden and add minced garlic, ginger and minced green chilies. Saute till the ginger and garlic starts to brown.
Add the chili, turmeric, coriander, garam masala and Kashmiri chili and saute the spice powders till their raw smell goes away.
Now add chopped tomatoes and salt and cook the tomatoes till they wilt. After this point switch off the flame and let the gravy cool a bit.
Using a hand blended or in the grinder, grind/blend this masala till it becomes a puree. Return this puree to the same pan and start the stove.
Add the corn, diced paneer and half cup water to this gravy and bring it to boil. Allow the paneer to cook for 5- 8 minutes.
Dry roast the kasoori methi in a small pan for 2 minutes over low flame and set the kasoori methi aside.
Add cream to the curry when paneer has cooked. Now crush the kasoori methi using your fingertips and sprinkle over the curry.
Garnish with chopped coriander leaves and take the curry off the flame. Serve with rotis, paranthas or pulao.