Makke Ka Chilla (cornflour Bread)
I make makke di roti often, but this recipe is not the usual makke di roti, it has a slight twist to it. I have added onions and chilies to this one to give that flavorful kick. This roti is definitely a filling breakfast recipe and healthy...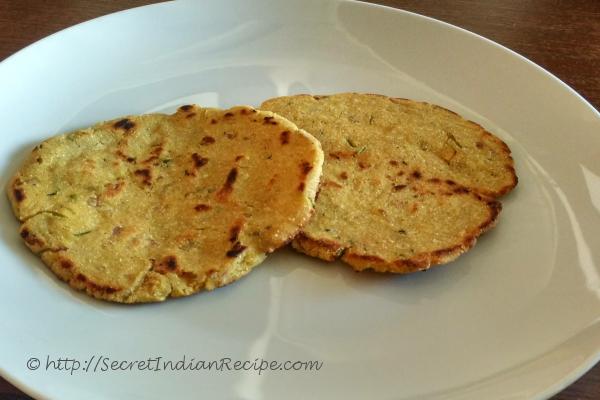 Ingredients:
Makke Ka Atta (unrefined Corn flour) 2 Cups
Besan: 1/2 Cup
Finely Chopped onions: 1
Finely chopped Green Chilies: 1
Salt to taste
Oil for cooking
Warm Water for kneading
Ajwain & Onion seeds 1/2 tsp each
Turmeric powder: 1/2 Tsp
Crushed Garlic: 1 Clove
Coriander : 2 Tbsp finely chopped (optional)
Dry wheat flour for dusting
Directions:
In a bowl take both the flours, add salt to taste (about 1/2 Tsp) add all the other ingredients except oil.
Knead using warm water to a smooth soft dough. Similar to that of chapati dough
Heat a pan, and grease with oil.
Make 7- 8 small portions of the kneaded dough and start rolling out each of the sections individually. Use dry wheat flour to avoid the dough from sticking to the base. Don't roll the rotis too thin, keep them slightly thick.
When pan is hot, place the rolled roti and cook on either side for 2 mins each on medium flame. Apply oil on both sides to help cook evenly. Remove from heat when cooked on both sides.
Continue for all sections. Serve hot with curd or sauce.
Footnotes:
You can also add 1-2 tbsp of curd to the dough to help make it more soft.
I have not used coriander in my recipe as I ran out of coriander at the time of cooking