Makki / Makke Ki Roti In Uttar Pradeshi Style (indian Flat Bread Made Of Maize Flour)
How can anyone miss Makki ki roti while talking about Indian food? Makki ki roti is the staple food in Punjab and some parts of Uttar Pradesh and is usually served with Sarson ka saag (Mustard leaves saag). Makki ka Atta or Maize flour is relatively less elastic and hence it requires little practice to make Makki ki roti. Alternatively you can add some Gehun or wheat flour to make the process easier. One more interesting fact is that way it is cooked in Punjab is quite different from how it is cooked in Uttar Pradesh. While in Punjab it does not have any spices and the dough is prepared only with adding warm water, in UP it has grounded and whole spices that enhances the flavour and taste. I prefer to make Makki ki roti in UP style as Makki ka Atta is little heavy on stomach so adding Ajwain and Kala Jeera helps in easy digestion. Here goes the recipe.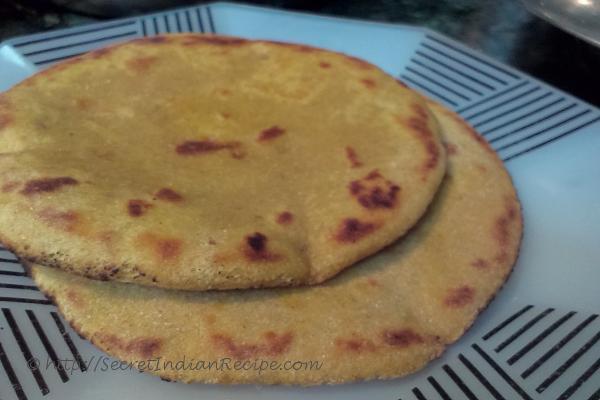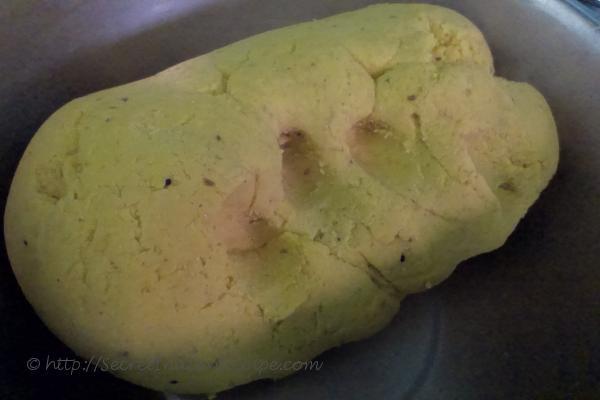 Ingredients:
Makki ka Atta (Maize flour) – 500 grams
Gehun Atta (Wheat flour) – 1 cup
Refined oil – 2 tablespoon
Salt – to taste
Ajwain (Carom seeds) – ¼ tablespoon
Kala jeera (Nigella seeds ) – ¼ tablespoon
Roasted Cumin and Coriander powder – 1 tablespoon
Red chilli powder – ½ tablespoon
Water for dough (approx 1 cup)
Ghee – 5-6 tablespoons
Directions:
Combine Makki and Gehun atta in a large bowl.
Add oil, Ajwain, Kala Jeera, Salt, Red chilli powder, roasted Cumin and Coriander powder and mix.
Now add water in small quantities and knead till it turns into a soft dough. It will not be as soft as the wheat dough as the Makki ka atta is relatively coarse. Also note it needs more water than wheat flour as Makki atta absorbs more water than wheat flour.
Let it rest for at least 30 mintues.
For cooking Makki ki roti, heat a pan. Take portions from the dough and make rounded balls. The size of the makki ki roti is relatively small….Probably I guess because it is not elastic as wheat flour.
Roll out each ball into small rounded chappati and then place over heated pan. Cook on medium flame till both the sides are done and small brown patches appear on the surface. Apply ghee on both sides of the roti and serve hot with Sarson ka saag or any curry dish.