Malaysian Dessert Fried Meringue,egg Paneer Ball And Caramel Fruit With Pinamint Sauce
Whoever loves dessert will love this recipe too. My family likes this dessert very much.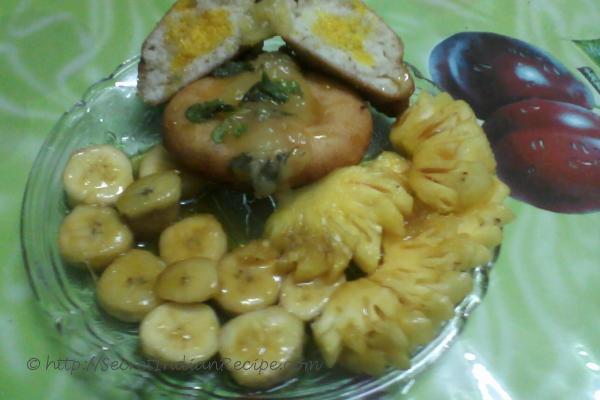 Ingredients:
3 Eggs
½ Cup Paneer Grated
Icing Sugar 3 Table Spoon for Egg White
3 Egg Yolk
Kesar 1 Pinch
Cardamom 1 Teaspoon
Maida 3 Table Spoon
Rose Water 1 Teaspoon
Rose Essence 3 to 4 Drop
, Baking Powder 1 Pinch
Cinnamon Powder 1 Pinch
Ghee or Oil For Deep Frying
1 table spoon icing sugar
Directions:
in a utensil cook egg yolk and sugar in double boiler. Inside add grated paneer, kesar, cardamom and make thick better. Now cool it down aside
In another utensil beat egg white with icing sugar until it becomes fluppy. After it becomes fluppy mix rose water, rose essence and maida and make a better.
Now heat oil in a pan and in a big sized spoon add white better and add yellow better above it and coat with white better. Now with the help of spoon put it in pan and fry it.
Serve it with pinamint sauce and caramel fruit.
Footnotes:
I have served it with pinamint sauce and caramel fruit. You can serve it with anything