Malpua With Banana
Malpua or malpoa is a pancake type of dessert especially popular in Northern part of India. This mouthwatering dish is mainly prepared during Holi, Diwali or Eid festival.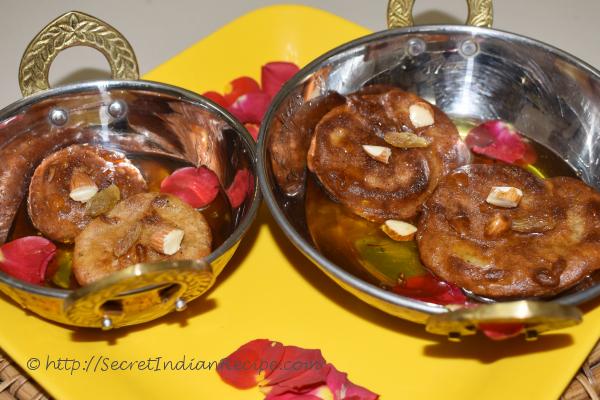 Ingredients:
All purpose flour - 1 cup
Semolina /suji or Rava (white) - 1/2 cup
Refined Sugar - 2 cup
Crushed green cardamom - 5~6
Banana (ripe) - 2
Saunf or fennel powder - 2 tsp
Pinch of salt
Milk -250 ml
Ghee - 4 tbsp
Pinch of baking soda (optional)
Saffron - 7~8 strands
Raisin - 8~10
Almond - 8~10
Sunflower oil - approx 200 ml
Condensed Milk - 7 tbsp
Directions:
Boil the milk and keep aside. Keep it warm. Crush cardamom and keep aside. This will be used to make both the batter and sugar syrup.
Pour the sugar in 1:1 ratio (1 1/2 cup) in water and boil. Add cardamom and saffron strands. Boil till the mixture is thick and sticky. Once the desired consistency is obtained keep the syrup warm by putting the bowl in warm water.
To make the batter mix flour with suji/rava, already boiled warm milk, condensed milk, fennel powder, 1/2 cup sugar, salt and baking soda. Use mixer grinder to make the batter smooth and consistent. It should not be too thick or too runny. If you make it thick then the malpua would be hard whereas if too much runny then it would not form/bind well. Keep the batter in a covered bowl for at least half an hour. If you have time keep it for 4 hours which will make really tasty malpua.
Heat oil + ghee in a non-sticky flat bottomed pan /kadhai. When the oil is sufficiently hot put the burner in low flame and pour one big spoonful of batter into it. The batter should be poured in the central portion from little height so that it forms a circular shape. I created two sizes one with 2 inch diameter and others with 1 inch diameter. When the edges turn golden brown flip and fry till both sides are golden. Remove with slotted spoon and cool the pancakes a bit. Then dunk in the sugar syrup.
Garnish with sliver of almond and raisin. Serve hot. You can keep the malpua in refrigerator for up to 2 days but remember to make it hot before serving.
Footnotes:
You can keep the malpua in refrigerator for up to 2 days but remember to make it hot before serving.