Malpua (fried Sweet Pancakes In Sugar Syrup)
#DiwaliRegionalRecipe
Malpua is a pancake and a famous festive sweet dish relished upon by all. This dish adds more spark to the Diwali season and is loved by all.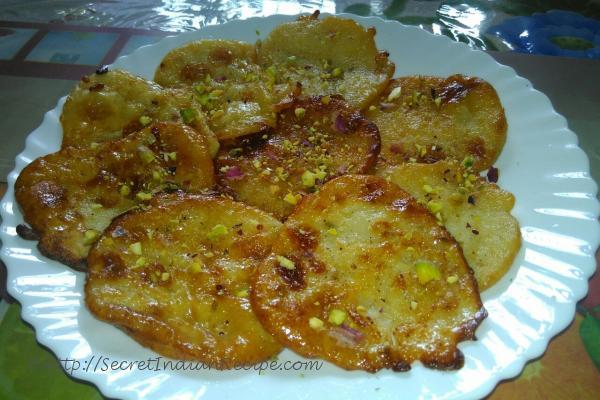 Ingredients:
2 cups All purpose flour
1 cup Khoya
2 cups Milk
Pinch of Salt
1 and half Cup Sugar
1/2 cup water
1/2 tsp Cardamom powder
7-8 Strands of Saffron
1/2 Tsp Gulab Jal
Ghee for frying Malpua's
1 Tbsp crushed Pistachio's Nuts
Directions:
Mix Khoya and Milk in a blender. Now, add flour and salt, blend it for 2-3 minutes.
Make a fine smooth batter. Keep aside.
Steps for Sugar Syrup: Heat a pan, Add water & Sugar keep stirring. Make one string sugar syrup. Add Saffron, Cardamom Powder, Gulab Jal and keep aside.
Heat a flat Pan add Ghee to it.
Pour Malpua batter with help of a spoon into the Ghee.
Fry them on low flame until golden brown.
Take out the Malpua's from Ghee and dip them into the Sugar syrup.
Serve hot and garnish with Cardamom powder and crushed Pistachio nuts.