Malpua | Malpura #holirecipe
Malpua is very common in North Indian states and is usually prepared during Holi. Malpua is mostly paired with Rabdi and this combination is hugely popular. Not only with Rabdi, Malpua can also be enjoyed alone with sugar syrup and is a mouth-watering festive sweet. There are many versions of Malpua made with Khoya, Milk, Fruits, etc. Here I am using Milk to make this sweet. This is a simple and easy recipe to make the show stopper of this Holi, Malpura.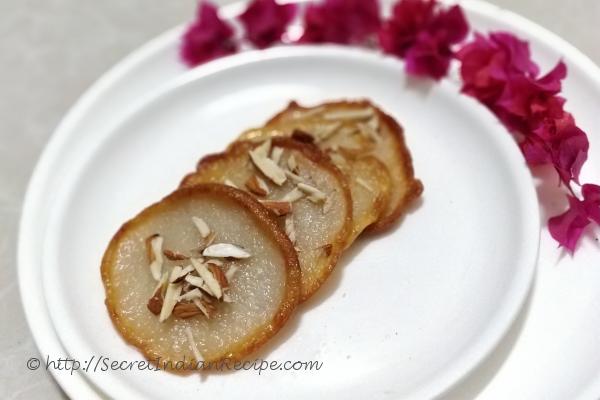 Ingredients:
1 cup Maida or All Purpose Flour
¼ cup Rava or Sooji or Semolina
1 cup Milk
2 tbsp Powder Sugar
Oil or Ghee
1/8 tsp Baking Powder
Dry fruits for garnishing
1 cup Sugar
½ cup Water
1 tsp Cardamom or Elaichi Powder
Directions:
In a bowl, take 1 cup Maida, ¼ cup Sooji or Rava and 2 tbsp Powder Sugar and mix well.
Slowly add 1 cup of Milk and mix to get a flowing consistency batter. Make sure the batter is smooth and there are no lumps.
Whisk the batter for 4-5 minutes. Then cover the bowl and rest the batter for about 30 minutes.
Meanwhile the batter is resting, slice the dry fruits into thin flakes. We will use these for garnishing.
Also, we will make sugar syrup. In a pot, take 1 cup of Sugar and add ½ cup water and get it to a boil on medium flame.
Stir occasionally to ensure sugar is dissolved in water. Boil it till you get one string consistency sugar syrup. After that switch off the flame and keep the sugar syrup aside.
After 30 minutes of batter resting, stir the batter a bit and it is ready to make Malpua.
Malpuas can be made by deep frying in kadai or shallow frying on a pan. Here, I am shallow frying them on pan.
Just before making Malpuas, add 1/8 tsp Baking Powder and mix.
Spread 2 tbsp of Ghee or Oil on the pan. Take a ladleful of batter and drop it in the pan. You need not spread the batter. You can make 2-3 Malpuas at a time depending on the size of the pan. Cook malpuas on low heat.
Flip them over once one side is golden and crisp. Cook the other side similarly.
When cooked from both sides, take them out from the pan. Put them in the sugar syrup that we had prepared. Make sure the sugar syrup is warm at this stage.
Coat the both sides of Malpuas with Sugar syrup. Keep them soaked in the syrup for about 10 minutes.
Take them out of the Syrup and garnish them with dry fruits flakes.
Footnotes:
I have cooked Malpuas on a pan like pancakes by adding a little amount of oil or ghee. This is more healthy way to make Malpuas. Else they can be deep fried in a kadai. They taste same as pan shallow fried ones. Just the difference will be in appearance. Deep fried ones will look more golden like a puri.
For richer Malpuas, use Rabdi or Thickened milk for making batter.
Addition of sugar in the batter is optional. It increases the sweetness of Malpuas.
You can use Whole wheat flour instead of Maida. In this case, you will require little more milk to make the batter.
If you do not want to add baking powder, then allow the batter to rest for 6-7 hours to ferment. In this case, baking powder will not be required.