Malpua In Thandai Sauce
This recipe,is specially innovated for this Holi contest.I wanted to keep it traditional,but with a twist.So,I combined two of the popular sweets,Malpua and Thandai,and created a mouthwatering dish.My family,relished it. It tastes better,if chilled.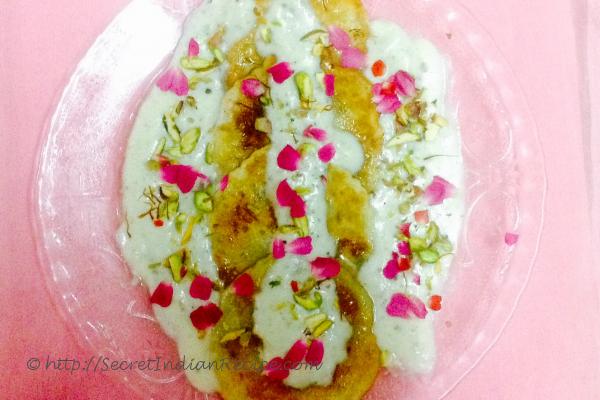 Ingredients:
For Malpua:
1 cup (200 gms) refined flour,maida
1 tablespoon semolina
1 tablespoon milk powder
1teaspoon fennel seeds,saunf
A few strands saffron
A pinch of salt
Milk or water as needed
Ghee for frying
Two pinches of baking soda
For thandai sauce:
6 cups milk
3 tablespoon condensed milk
1/4 cup sugar
Slightly roast and powder the below given ingredients:
10-15 almonds
10-15 cashewnuts
1 tablespoon pista
1 tablespoon poppy seeds,or khuskus
1 tablespoon fennel seeds
1 tablespoon peppercorns
1/4 cup melon seeds or char magaz
8 small cardamoms
1/4 teaspoon saffron
For sugar syrup:
2 cups sugar
1 1/4 cup water
1/2 teaspoon cardamom powder
Pinch of saffron
1 teaspoon rose water
Directions:
Mix together flour,semolina,milk powder salt,fennel seeds,kesar and baking soda. Add milk or water as required,to make a batter of pouring consistency.
Heat ghee in a broad pan. Pour ladleful of batter to make small malpuas. Cook both sides till golden brown.Soak in sugar syrup for 5 minutes and transfer to a serving plate.
To prepare sugar syrup,boil together ,sugar and water,till a slightly thick syrup is made.(one string consistency). Mix in cardamom powder,saffron and rose water.
For making sauce,boil milk and reduce it to about four cups. Add condensed milk ,sugar and the finely powdered thandai masala.Cook further, till it starts to thicken, or till you get the desired consistency.
Place the sugar syrup soaked malpuas in the centre of a serving dish or plate.Pour the thandai sauce,around the Malpua,and also to cover half of the malpuas. Garnish with rose petals,pista and rose water. Chill for 2 hours before serving.
Footnotes:
The sauce tends to further thicken,on cooling.So, do not cook the sauce to a thick lump.
If you have no time to reduce milk,thicken the milk with cornflour or rice powder, mixed in milk.This should be added after you have cooked the thandai masala powder.
Before adding the thandai powder to the hot milk,mix it in cold milk and slowly pour into the boiling milk.Dont forget to stir continuously.