Manda (sweetend Puffed Rice Powder Stuffed In All-purpose Flour )
Manda is a traditional sweet which is most popular among the Hindu Kongini people of Kerala. It is made with rice popcorns (Malar) which is powdered with sugar. The malar or rice popcorns have a very cooling effect on the body and had many medicinal values too. It is used for the treatment of chicken pox. Malar is also used an offering for the Gods which is named as nivedhyam or prasadam. Give it a try and I am sure that you will love this sweet.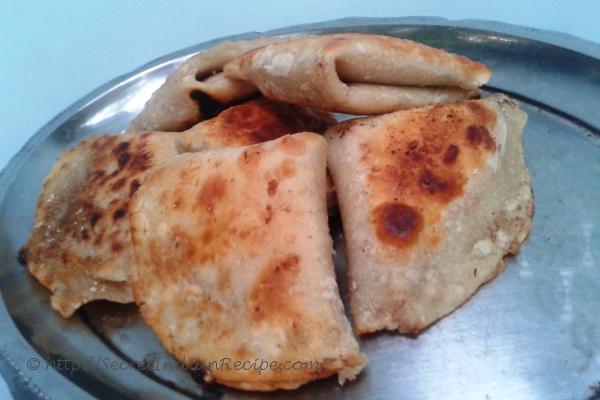 Ingredients:
All-purpose flour - 250 grams.
Malar or rice popcorns - 100 grams.
Sugar - 100 grams.
Oil –to deep fry.
Salt –as you need.
Water - 1/4 cup.
Cardamom powder - 1/2 teaspoon.
Directions:
Switch on the stove and place a frying pan on the stove.
Dry roast the malar or puffed rice until it is crispy.
Then grind the roasted puffed rice, along with cardamom powder and sugar into fine powder using a mixer grinder.
Keep it aside.
In a large bowl, add the all-purpose flour, water, salt, and two tablespoon of oil and mix it to a smooth and thick dough.(Like chapatti dough)
In another bowl, mix two tablespoon of the all-purpose flour to a smooth, sticky solution and keep it aside. This is to stick together the edges of the manda.
Roll the dough into small balls.
Spread the balls to make small round sheets using a chappathi rolling pin.
Place a frying pan on the stove.
Add oil to frying pan.
When the oil is hot, just immerse the sheets in the oil and take it out.
Do not cook it or fry it. Just immerse the sheets in the hot oil and take it out.
Then fold it into four to form two pockets.
Fill the two pockets with the powdered mixture and close the edges with watery solution of all purpose flour already made.
Place a tawa on the stove and brush a little oil on the tawa.
Fry the mandas in the tawa, turning both the sides.
Don't forget to spread a little oil on both the sides of manda.
Fry until both the sides turns crispy and light brown color.
Remove it from oil and serve it hot.
Sweet mandas are now ready to serve.