Manga Curry (raw Mango Curry)
Though Kerala is known for its traditional recipes infused in coconut, not every region in Kerala makes all their curries steeped in coconut. The Northern part of Kerala however has a penchant for adding coconut to every dish they make. My mom hails from Thrissur and her side of the family loves their every day curries with coconut based gravy. So here's one of our family favourites. If you get the right mangoes this curry will be tangy. Sometimes in Bangalore we don't get good sour mangoes and I am no judge of buying raw mangoes. In such situations, I add 2 tsp vinegar to the curry before adding the coconut milk. I know it is the cheat's guide to making this curry but what does one do when mangoes are not sour anymore?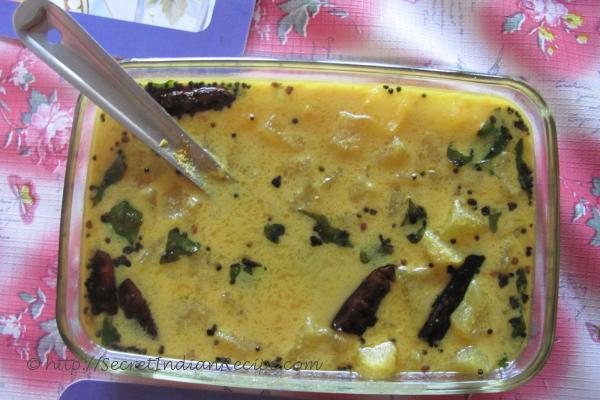 Ingredients:
Raw mango (finely sliced) - 500 gm
Coconut Milk ( thick)- 1/2 cup
Coconut Milk (thin)- 1 cup
Onion- 1
Green Chilies - 2
Ginger- 1/2 inch piece
Curry leaves- 1 sprig
Turmeric powder- 1/2 tsp
Coriander powder- 1 tbsp
Chili powder- 1/2 tsp
Coconut oil- 4 tbsp
Dry chilies- 2
Mustard- 1 tsp
Fenugreek powder- a pinch
Salt- to taste
Directions:
Grind the coconut first with 2 tsp water and extract milk using a strainer this is the thick milk. Now add water to the extracted coconut scraps and grind again in the mixer the milk you extract this time will be thinner and is your thin coconut milk.
Saute onion, ginger, green chilies and curry leaves in a pan with 2 tbsp oil.
In a small bowl add all the spice powders and mix it with a tea spoon of water.
Once the onion browns add the spice mix and saute till the oil separated from the onions.
Now add the mango and salt and saute for a minute or two. Add the thin coconut milk and a little water and cook the mango in the coconut milk.
Once the mango is well cooked add the thick coconut milk bring the curry to a boil and switch off the flame.
In a small pan heat the remaining 2 tbsp oil and add the mustard seeds and dry chilies. Once it splutters add it onto the curry.
Serve with rice and some mixed vegetable stir fry for a wholesome meal.
Footnotes:
In the end along with mustard seeds you can add finely chopped shallots and curry leaves for better flavor.