Mangalore Roce Curry With Pomfret
I love coconut! In case you haven't looked at the rest of my recipes (which you really should do right now!) :) I am professing my love for coconut once again. In sweets, curries, a handful thrown in any veg or even to snack on. Really, I love it. This could be one of my favourite curries because it has pomfrets in it as well. One of my all time favourite fishes to eat. It was the first ever fish I fed little miss, though she is mainly a meat eater, she loves it too.
This curry is creamy and mildly spicy. If you like it hotter, just add a chilly or two. With a little (or a lot) of rice and a side of b=veg, for me, it is paradise in a plate :D
I hope you enjoy making this curry :)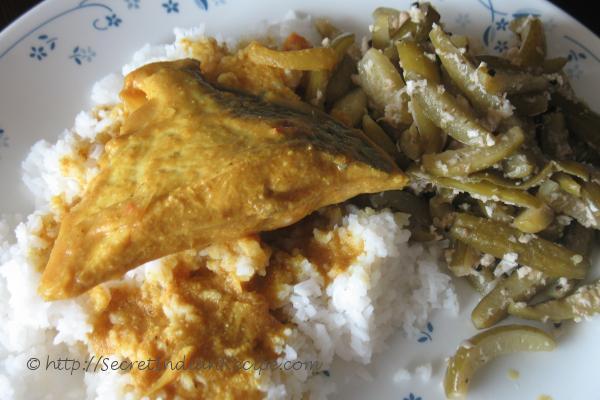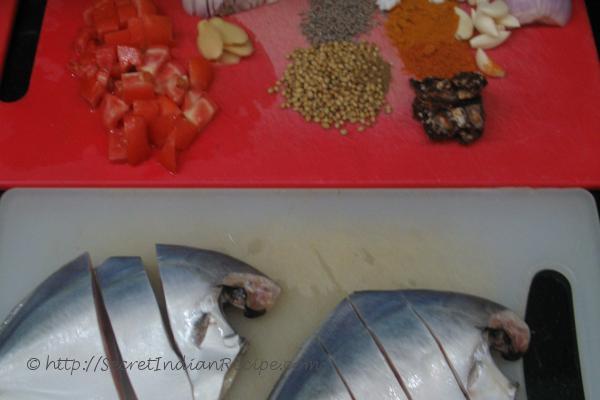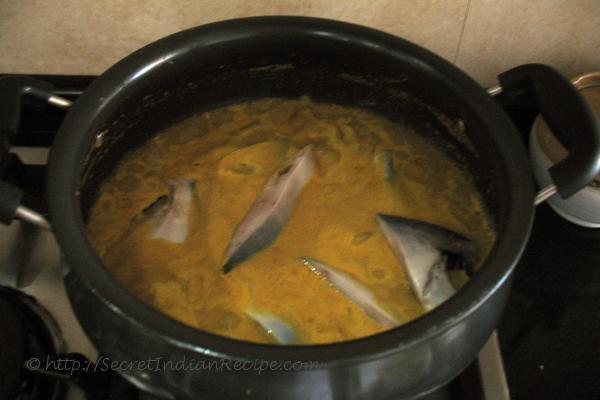 Ingredients:
2 Pomfrets, Cleaned and Sliced
1 large Onion, sliced
1 Large Tomato, medium dice
4 slices of Ginger
2 tbsp Oil
Salt to taste
For the Masala:
2 tbsp Coriander seeds
1 tsp Cumin seeds
10 cloves of Garlic
1 small ball of Tamarind
2 tsps Turmeric powder
1 tsp Red Chilly powder
1/2 tsp Peppercorns
1 Large Onion
1/2 a Coconut, Scraped
2 cups Water
Directions:
Grind all the ingredients for the masala. Slice the fish and salt it with a pinch of salt. Set aside.
Heat the oil in a vessel and fry the onion till translucent. Add the tomatoes and Ginger and fry till the tomatoes are mushy.
Add the masala and fry for a minute, then add the water and stir. Let this come to a boil.
Add the fish and swirl the vessel. Let the curry come to a boil and reduce the flame to simmer.
Let the curry simmer for five minutes. Add Salt to taste.
Enjoy!
Other Indian Recipes that you may Like !