Mangasha Mahura
This is a unique dish for a perfect get together occasion. All the ingredients are blended together with the mutton to make it juicy and tender.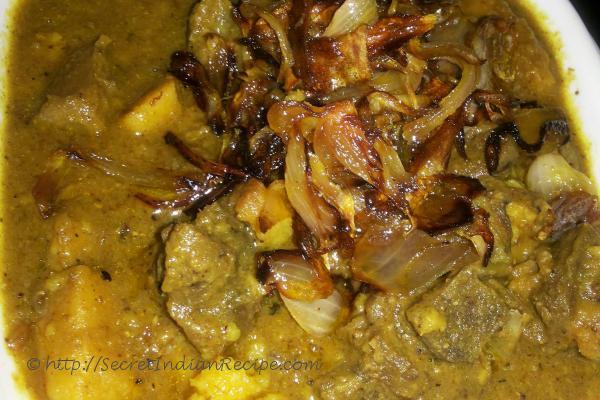 Ingredients:
Mutton- 250 grams
Patato- 2 Nos
Arbi- 4 Nos
Yam- small pieces ( ½ cup cubes)
Raw banana- 2 nos
Onion- 2 nos ( slice an onion and fry it)
Garlic- 1 whole piece
Ginger- ½ piece
Tej pata- 2 Nos
Jeera- 2 tsp
Coriander seeds- 2 tsp
Kalimirch- 1 tsp
Red dry mirchi - 4 nos
Cardamom- 2 nos
Cinamom – 2 stick
Oil- ¾ cup
Salt to taste
Haldi- 1 tsp
Sugar- ½ tsp
Ghee- 1 tsp
Directions:
· Peel the vegetables and cut into small squares. Then fry it with little bit of oil and keep it aside. · Make a fine paste of an Onion, Ginger, Garlic, 1tsp Jeera and 1 tsp Coriander · Marinate the mutton with the above paste and keep it aside for atleast 15 min · Jeera- 1tsp, Coriander- 1 tsp, dal chini, cardamom, kalmirchi – Roast these ingredients for some time and then grind it. This mixture is known as ground masala. · Now heat the oil in a pressure cooker. Add Tej pata and chilli, sauté for a minute then add marinated mutton and mix it well. Add salt, sugar and sauté till the water evaporates and separates to the oil then add 2 cups of hot water, close the lid and cook till the pressure is released for six to seven whistles. · Open the lid when the pressure has been reduced completely,add fried vegetables and then cook it till done. · Then sprinkle the ground masala on top of it. · Serve hot, garnish with fried onion
Other Indian Recipes that you may Like !