Mango Almond Barfi
Mango almond barfi is very easy and super addictive, it only takes a few minutes to cook and assemble the mango and almond mass and the taste is heavenly. As the festivals are approaching, this barfi can be a wonderful addition to the Diwali festival Menu series. Don't worry if mangoes are not in season, go ahead and make it with store-bought mango puree and surprise your guests this Diwali.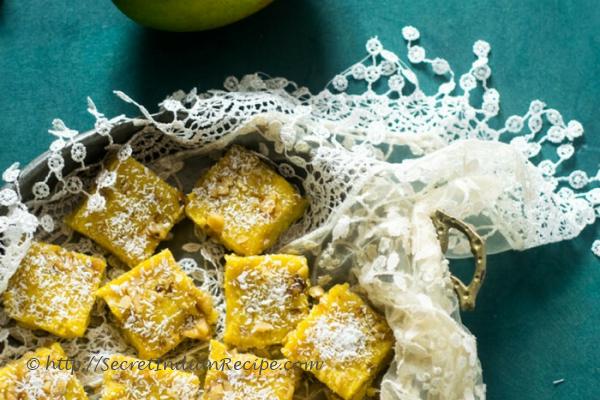 Ingredients:
2 cups mango puree
2 cups almond meal
3/4 cup sugar
1 teaspoon cardamom powder
1 tablespoon ghee
2 tablespoon coconut flakes, optional
Directions:
Grease an 8" square baking tray with ghee and set aside.
h=Heat a heavy bottom pan and add mango puree with sugar. Cook on low heat with frequent stirring.
Once it starts thickening add almond meal and cooks on low until it starts to form a mass.
Add cardamom powder and ghee and mix to combine.
Transfer the mixture into the greased baking tray and press the mixture into the baking tray.
Sprinkle chopped walnuts and desiccated coconut on top. Let the fudge set for about 2 hours.
Cool and cut the desired shape of barfi.