Mango And Coconut Poli With Mango Cream
We all had Puran Poli made out of Chana dal.. This is my version of Poran Poli with Mango and Coconut filling... Try it and this is my winning recipe at a food contest conducted by Hypercity and Food Food. Judged by Chef Sanjiv Kapoor. I was amongst the top 10 winner.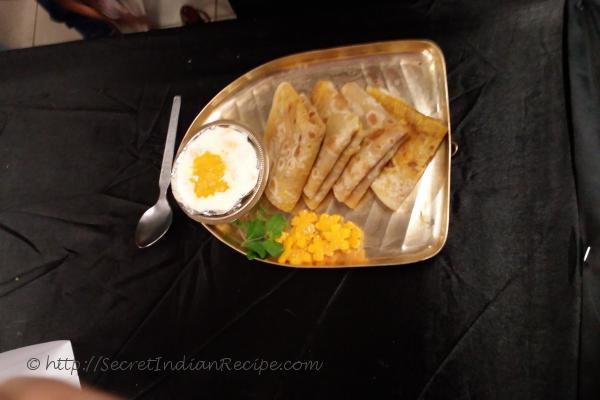 Ingredients:
1 cup ripe Mango cubed and pulped
1/4 cup desiccated coconut
1/4 tsp cardomom powder
1 pinch of salt
3 tbsp sugar (Sugar according to the sourness of the mangoes)
250 gram Fine flour
1/4 tsp salt
Cold water
1 tbsp oil
1 cup Amul cream
2 tbsp sugar
1 /2 cup mango cut into pieces
Directions:
Mango and Coconut filling Take a pan. Add all the ingredients and on a low flame keep stirring the mixture till all the ingredients incorporates well. Take a small pinch of the filling and try to form a ball. If it forms a ball then take of the gas and cool it and keep it aside.
Dough Take a bowl. Add the flour, salt and oil. Mix the flour. Add water and knead the semi - soft dough. Cover and keep for 30 minutes.
Making the Poli Take the dough and make lemon size equal balls. Roll the dough. Add the filling in the dough. Close the dough with the filling inside. Roll the dough. Take a tawa. Put the rolled dough on the tawa. Add ghee and cook the Poli from both the sides. Once brown from both the side, serve it with mango cream...
Mango Cream to serve with the Poli In a blender add the cream and sugar and blend it. Add the mango pieces to the cream and mix it. Keep it in the fridge to cool.
Footnotes:
Sugar has to be added according to the sourness of the mangoes. Polis can be made and kept in an air tight container for a month in the fridge. Before having the Polis just warm it up.