Mango Barfi (mango Flavoured Fudge)
I was never fond of sweets when I was a kid. On the contrary, my elder brother used to love sweets. I remember how every night after dinner he used to peep in refrigerator and kitchen cupboards for something sweet. Mom used to make different types of sweets for him at home. The easiest one was besan ki Mithai. She used to add different ingredients to make flavored besan ki mithai like sometimes she used to add chopped almonds to make it badam mithai or saffron to give a royal taste. In summers she used to add mango pulp to turn it in mango Barfi. The best part is although she used to cook all these sweets with Besan, the flavors to be quite different. These sweets can be preserved in refrigerator for two weeks but tastes best when they are little warm.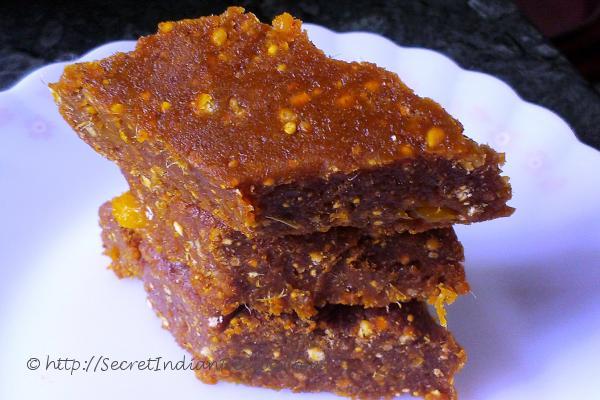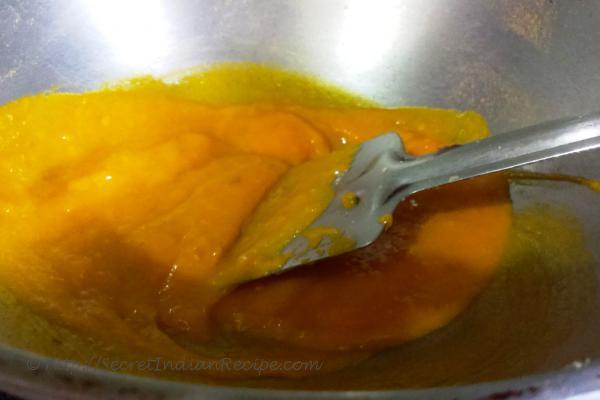 Ingredients:
Besan (Gram Flour) – 1 cup
Mango 2 -3
Green cardamom – 1
Sugar – ½ cup or as per sweetness of Mangoes
Ghee – 2 tablespoon
Directions:
Peel the mango and take out the pulp. Put the mango pulp in a grinder along with sugar and cardamom and grind into a smooth puree.
Heat ghee in a pan and add the besan. Roast the besan on low flame for about 10 mintues or till it turns a little brown and start releasing its aroma. Take out the besan on a plate and keep it aside.
Now pour the mango puree in the pan and cook for 5-6 mintues. The sugar in the puree will start caramelizing, giving the pulp a jam like consistency.
Now add the roasted besan and mix well. Check the sugar and if needed add more sugar at this stage. When the besan is mixed properly, it will turn into a big sized lump and will leave ghee from the sides.
Pour the mixture over a greased plate and let it cool. Cut mango barfi from this set mixture and enjoy.