Mango Cheesecake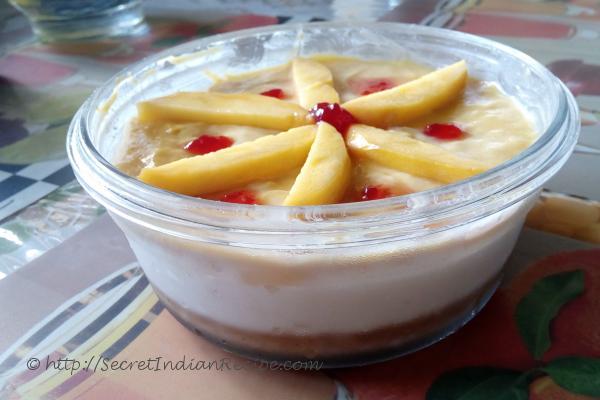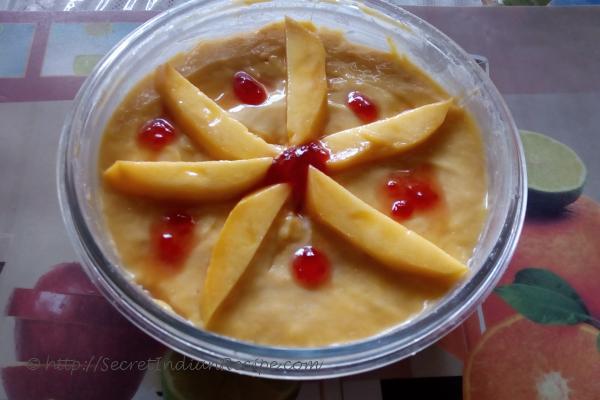 Ingredients:
1 Cup Mango Pulp
1 Cup Whipped Cheese Cream
500 ml Milk
1 Cup Curd
2 Tbsp Powdered Sugar
1/2 Tsp Vanilla essence
2 Tbsp Cornflour
1 small packet Mc Vities biscuits
1 Tbsp Butter
Directions:
Powder the biscuits in a mixer and add butter , mix well.
Take a flat glass bowl grease it with butter, spread the biscuit mixture on it evenly.
Keep the bowl in the fridge for an hour to set.
Method for whipped cream: Boil 250 ml milk and 2 Tbsp curd to make cheese. Drain the excess water by pouring the cheese in a cloth and hang it until it cools. Take blender/mixer add the hung cheese, 1 Tbsp powdered sugar, and vanilla essence. Make a smooth & thick paste out of it. Keep aside.
Heat 1 cup Milk , in another 1/2 cup milk mix cornflour and add it to the hot milk. Keep stirring until thick. Keep aside for cooling. After cooling , mix half of the cornflour mixture to the whipped cream and blend it for 2-3 minutes. Make it smooth and light.
Take the cooled biscuit mixture bowl, add the whipped cream to it. Keep it in the fridge for an hour to set.
Now, put the mango pulp in a blender & add the cornflour mixture in it with 1 Tbsp sugar . Blend it for 2-3 minutes.
Take out the mixture bowl from the fridge & add the mango mixture in it . Spread well. Now keep the bowl in the fridge overnight.
Garnish with sliced mangoes on top and serve.